Tips for Categorizing Your Watch List
10/14/2013 6:00 am EST
Focus: STRATEGIES
Jake Huska of SMB Training Blog shares how he organizes his watch lists in order to help him act more decisively and quickly when opportunities present themselves.
If you're a short-term trader, you should be salivating with earnings season finally getting started. Why? There will be a multitude of stocks that are "in play." When I first started, the concept of trading stocks that were in play was something I was not at all familiar with. I would look at the charts of stocks that simply were not moving intraday, the equivalent of throwing a dart at a board with your eyes closed. There was no edge.
When I was later introduced to SMB and their proprietary methodology of trading stocks with fresh news catalysts, I began to see a trend in the way these "in play" names moved. With an increased order flow behind them, these stocks offered many more opportunities to capture a larger intraday move. The increased order flow increases the volatility, which can skew your risk/reward much higher in your favor. Note, however, that you must still develop a clear system to identify your best setups that simultaneously limits your downside, but (in my opinion) you will have a much better chance to be profitable as an intraday trader if you are trading stocks that are in play.
This isn't to say you can't trade technical plays as well. My intra-day watch list starts with "Fresh News/In Play," "2nd Day Plays," and "Technical Plays." Notice, though, that technical plays is lower on my list. I naturally gravitate towards stocks that are moving the most intra-day with an above-average volume, and these names will be my first choice.
I wanted to share a quick example for each of the above categories. A recent example of a stock that fell into the "Fresh News/In Play" category of my watch list was Towers Group International (TWGP). I checked the SMB Scanner and saw TWGP at the top of the "gap down" column, as it was gapping down over 28%. I clicked on the stock symbol on the Scanner and read the news story that the company planned to increase its loss reserves. Based on the fresh news catalyst and the pre-market volume, I knew that this stock should offer some decent intra-day opportunities. I managed to capture about 40 cents in the trade, which is a huge amount for a sub-$5 stock.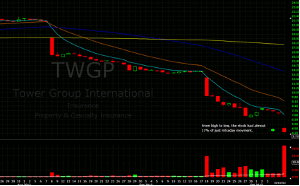 Click to Enlarge
After Day 1 of a stock being in play, I continue to keep it on my radar and watch it at certain levels that have developed from the previous session. These 2nd day plays can be easier to trade since you have levels to work with from Day 1. A recent example of a "2nd Day Play" was Angie's List (ANGI) this past Friday. The stock had been in play the previous day after having gapped down. For Friday, I had two levels of interest: $18.50 and $17.70, which were the extremes of the stock's previous intra-day move. Once the prior day's support at $17.70 had been breached, the short trade was simple: ANGI went below the prior day's low and held below and the stock trended down over a point.

Click to Enlarge
Finally, a recent example of a stock falling into the "Technical Plays" category of my watch list was International Business Machines (IBM) on Tuesday. It had actually been on my watch list the prior day, but it never triggered, so I continued to keep it on my radar. The stock was flirting with daily support at $182 with multiple points of downside until its next support between $177-$178. On the open, IBM drove through the $182 support, and it eventually made an intra-day low of $178.71.

Click to Enlarge
With earnings season about to get into full gear in the coming weeks, my intra-day watch list will contain more and more "Fresh News/In Play" names and "2nd Day Play" as well. I'm sure there will be some occasions where there will be a nice technical trade as well, but I will be focused on where the movement is.
Editor's Note: Jake Huska is a college student working on his trading game. At SMB we believe traders should start working on their trading game early, just like pro athletes. Jake's posts reflect a better journey to pro trader for the college student with a passion for trading.
Jake Huska, Contributor, SMB Training Blog