Trade Review of a Short Setup
02/28/2014 6:00 am EST
Focus: TRADING
Jake Huska of SMB Training Blog reviews one of his recent trades to share the steps he took to verify a setup before pulling the trigger.
The trade I wanted to discuss today is a trade I made recently in Safeway (SWY) on February 20 on the short side. For simplicity, I've listed the different components of this particular setup below:
The stock had been up the prior four days.


The stock was gapping up to old pivot highs.


The stock failed to hold above the previous resistance levels.


The stock then held below volume-weighted average price (VWAP).


One reason that I felt this represented a decent risk/reward trade was the stock had been up the prior four days. While this in isolation isn't enough for me to throw out an offer or hit the bid to get short, I know that a failure at a prior resistance level is more likely to lead to a pullback if the stock is extended heading into the gap up. Of course, if SWY was able to hold above prior resistance, I would no longer be looking for a short setup. But this did not occur.
The thing I really wanted to highlight in this review was the patience that the setup required. After clearly seeing the failure at prior resistance, I become more confident in the short setup. However, I then used VWAP as an indicator to help in my execution and help control my risk (which you can see in the chart below). While you definitely could have shorted the stock based strictly on the intraday failure at prior resistance, once the stock was below VWAP, this was another check in your favor for an intraday short trade.
Daily chart of SWY: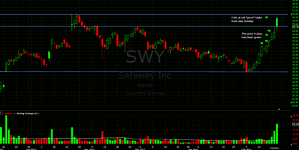 Click to Enlarge
Intraday, 5 minute chart: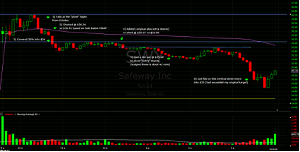 Click to Enlarge
As a trader, you want to find setups with as many checks in your favor as possible. This will allow you to have more conviction and trade with more size.
Jake Huska, Contributor, SMB Training Blog
By clicking submit, you agree to our privacy policy & terms of service.
---
Related Articles on TRADING