March Madness in the Stock Market
03/18/2014 6:00 am EST
Focus: STOCKS
We're in for more choppiness this week in the stock market, but so far, David Grandey of AllAboutTrends.net, believes that last week's pullback points to another buying opportunity.
It's mid-March and that means March Madness or shall we say…Market Madness?
While the powers that be will be "selecting" today who gets to go the big dance, we too are selecting how we will continue to profit from today's market.
This is the kind of market we LOVE. Why?
What's not to like?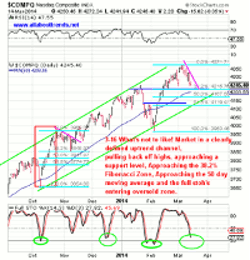 Click to Enlarge
We buy stocks at low-risk, alternative entry points. That means we buy stocks that have pulled back to support in tandem with the indexes.
In addition to seeing the indexes pullback towards multiple support zones, we are seeing a ton of names setting up low-risk, alternative buy points.
When the stock market sells off to the degree it did last week, two scenarios are commonly debated:
Is this the start of something bigger with more downside to come?


Is this another opportunity to step up and buy leading stocks at discounts?


#2 has been the winner each and every time the market has pulled back like this for the past five years. At some point that trend will change, but for now that's been the ticket.
How do we know what will eventually happen here? We can look to the charts of leading stocks for clues. After all, it's a market of stocks, not a stock market.
Let's take Tesla (TSLA) for example: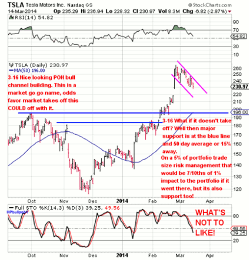 Click to Enlarge
When looking at the charts of leading stocks such as TSLA and others on our watch list, we see stocks that are acting in positive fashion. In fact, some leaders actually hit new highs last week and many others are pulling back gently.
That tells us that most likely this latest pullback in the indexes could eventually be another opportunity to get paid from buying leading stocks vs. packing up and running for the hills.
By David Grandey, Founder, AllAboutTrends.net