Trading Crude Oil's Next Move
03/19/2014 6:00 am EST
Focus: COMMODITIES
With worries over the Russian standoff in Crimea fading, trader Frank Ochoa of PivotBoss.com, offers his take on what's next for crude oil and how to play it.
In my Mar. 11 edition of the Opening Print I wrote: "The OTF buyers are betting that 100.13 is the low, and they're defending their trade at 100.80. If 100.80 fails to hold, those OTF buyers become sellers and will bail, which could send price through the prior micro composite VPOC (MCVPOC) at 100.12 and down into the next key level below at 99.00."
Sellers overwhelmed buyers who were defending the 100.80 key level, which ultimately led to a release of sell stops that ran price through the 100.13 prior low and to the current low that printed during Monday's session at 97.37. In doing so, crude reached the primary monthly bear target at 98.91, and still has the secondary monthly bear target at 96.81.
At which point do the sellers say "uncle"? I'm guessing the pivot to watch is 99.55.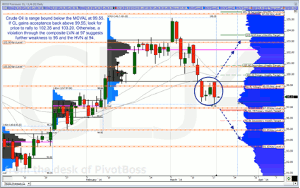 Click to Enlarge
Crude oil has developed a four-day range below the current micro composite value low of 99.55, which is the pivot to watch for the next swing move. After taking control of the 100 key level, sellers are eager to keep a lid on 99.55, and are currently absorbing demand between 99.10 and 99.40.
If the buy stops are run above 99.55, these sellers become buyers and will be forced to cover at higher prices. Additionally, if crude oil gains acceptance back above the micro composite value low of 99.55, this suggests a failure to expand the range lower and implies a move back to value at 102.35 and the top of value at 103.20.
If sellers continue to overwhelm buyers above 99, look for price to test the next rejection level below at the LVN at 97. If you're bullish, this is a level to consider for a swing buy opportunity for a move back toward 99. Failure to hold above 97, however, implies a push into the 95 key level and the HVN at 94.
By Frank Ochoa of PivotBoss.com