Get Ready for a Bumpy Summer
05/22/2014 6:00 am EST
Focus: STOCKS
By assessing five key areas of the market, a trader can have an overall macro view and make the best trading and investment decisions possible, says Jeffrey Hirsch of The Stock Trader's Almanac.
At least once a month, in Market-at-a-Glance, we share with Almanac Investor members our opinion of any pertinent facts in five key areas of the market: Psychological (normally investor and trader sentiment readings), fundamental (corporate earnings, economic growth metrics and forecasts, etc.), technical (chart trends, resistance and support levels of major indices), Monetary (interest rates, Fed policy and global monetary trends) and seasonal. By assessing each of these areas an overall macro view can be created and trading and investment decisions can be made.
Currently all five areas are a concern. Due to a lack of bearish sentiment, psychological is negative. Disappointing corporate earnings and tepid economic growth paint a gloomy fundamental landscape. Forecasts for both are reasonable, but past estimates have been overly optimistic calling into question current forecasts. Were it not for the breakdown in small-cap and technology indices, the technical picture would be solid with DJIA (DIA) and S&P 500 (SPY) just a few percentage points of recent highs, but this divergence has existed since March.
Monetary policy could be argued in either direction. Fed Funds at 0 to 0.25% is highly accommodative in historical standards. However, the Fed is also curtailing its bond-buying program, which is adding less and less liquidity to the financial system every month. And lastly, seasonality is about to turn completely. DJIA and S&P 500 "best six months" ended in April and NASDAQ's (QQQ) "best eight months" ends in June.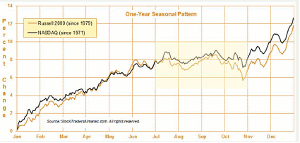 However, this does not mean that a bear market is imminent. These five areas have been weak to negative before and the market was able to forge on. Instead we expect a rather typical mid-term-year summer with a bias toward flat to down, perhaps even a 10% or more S&P 500 correction will finally materialize. A combination of cash, defensive positions (bond and bear ETFs), high-quality long, and low-quality short stock positions will likely outperform this summer.
By Jeffrey Hirsch, Editor-in-Chief, The Stock Trader's Almanac