Start with This Assumption: No One Knows Anything
12/16/2014 6:00 am EST
Focus: STRATEGIES
Adam Button, of ForexLive.com, points out that, although it sometimes seems like 'expert advice' is the way to go when it comes to trying to forecast the direction of oil, the fact is, no one knows. Adam also highlights two things analysts believe that may turn out to be wrong.
It's far too easy to fall back on expert advice.
Everyone is a genius in a flat market but when a bubble pops, it turns out they were all wrong. Five months ago, virtually everyone was forecasting oil around $100 when oil was around $100. Now, everyone is forecasting oil at $60 with oil prices at $60.
The truth is that no one knows. Don't believe anyone or anything. Fortunes are made from going against the grain and fighting the conventional wisdom.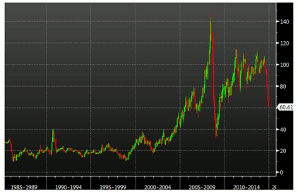 WTI crude oil long-term
Click to Enlarge
Here are two things people believe that might turn out to be dead wrong.
1. That oil will bottom somewhere in the $40-60 range.
Why not lower? The US is producing nearly 10 million barrels per day of oil in an extraordinary boom. Those technologies can be exported to tight oil formations around the world. Other technologies are making it cheaper to extract oil from tar sands and elsewhere. At the same time, alternatives/conservation is growing. The long-term oil average is around $20, why not?
2. What an oil bust would mean.
This is inspired by Bank of Canada Governor Stephen Poloz, who sounded downright blazé about the risk to the economy from oil today, he dismissed the risks to banking and the financial system outright.
In the US, the narrative of lower oil helping the consumer is well entrenched but the industry to pump 10mbpd is a massive employer and capex is sure to take a dive if oil prices fall. Plus, there is somewhere around $200 billion in high-yield oil company debt. That's nowhere near the $600 billion annually of subprime debt that was rolling out in 2006, but it's enough to cause some waves in the financial system.
By Adam Button, Editor, ForexLive.com