Join Michael Bellafiore LIVE at TradersEXPO Chicago!
Join Michael Bellafiore LIVE at TradersEXPO Chicago!
The Best Setup for New Traders
03/17/2015 6:00 am EST
Focus: STRATEGIES
Veteran trader Mike Bellafiore, of SMB Capital, shares a video in which he cites an example of one of his recent winning trades to illustrate how substantial changes to a company's fundamentals can dramatically change a stock's movement and open up many opportunities.
What is the best setup for new traders to trade? A changing fundamentals trade is my answer. One day, the fundamental strength about the name is substantially different than just the day before. These trades outperform the market. They trend intraday. They can trend for 1-3 days for those of you who are swing traders. It's this new news catalyst, significant change in fundamentals that propels so much opportunity. They can make your trading month.
I explain the trade in this video here with a specific trade that I made:
Another excellent example of this setup is when a company suspends their dividend as I wrote about in a recent Seadrill (SDRL) trade, an offshore driller.
Most recently, Lumber Liquidators (LL) saw a 60 Minutes piece question the safety of a laminated lumber product they sold, the company's fundamentals significantly changed, and the stock did this…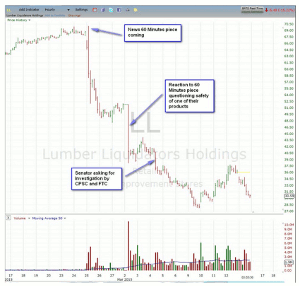 Click to Enlarge
For a recent training class, I mandated that new traders only trade setups with significant changing fundamentals. For our latest class, traders must place changing fundamentals trades at the top of their list for stock selection. They start first with these trades during their AM preparation. They must share with me all stocks that have a significant change in their fundamentals overnight. We want them focusing on these stocks as they start their trading career.
This setup is an excellent trade to add to your trading PlayBook.
By Mike Bellafiore of SMB Capital