Pre-IPO: Get in on the Ground Floor of a Canadian Medical Cannabis Producer
08/19/2016 9:12 am EST
Focus: CANNABIS INVESTMENTS
Canadian cannabis stocks continue to quietly outperform the entire stock market and this trend is expected to continue as the country prepares for legal recreational cannabis says Michael Berger, Associate Editor of MoneyShow.com, who highlights a pre-IPO opportunity in a licensed Canadian medical cannabis producer.
The upcoming legalization of recreational marijuana in Canada has caused more capital to enter the industry and it has also created new opportunities for investors.
The Canadian medical cannabis industry is growing at an impressive 12% per month and it now has more than 75,000 patients. The stocks levered to this growth have seen its share price move significantly higher over the last month and we see further upside from here as the sector continues to grow.
A New Opportunity
Capital markets have become more receptive to cannabis businesses over the last year. In October, Emblem, a licensed medical cannabis producer in Canada will have its initial public offering on the TSX venture exchange.
Emblem is comprised of three distinct divisions which can create value for each other as well as improve the value proposition of the entire company.
The company's strategy across its three verticals of cannabis production, patient education and pharmaceutical production, will take time to execute in full but benefits will begin to quickly materialize as the industry continues to move forward.
Focused on Quality
Emblem is focused on producing a high-quality, higher-margin product and is working to create the ideal balance of quality and quantity.
Emblem's state-of-the-art facility is comprised of two buildings on a 4.1-acre piece of land in Paris, Ontario and the buildings take up less than 20% of the property. After phase 1 and 2 are completed, the facility will be able to generate over $17 million a year.
Emblem received its sales license less than a month ago and has 100Kg ready for sale. Emblem can store over 600Kg of cannabis, which is right below its 700Kg operating capacity. Since inception, Emblem has invested $11 million into its facility, land and infrastructure.
The company estimates an average sale price of $8.50 per gram when it starts delivery product to patients and its all-in costs are $2.08. Emblem will also be selling its flower at wholesale prices to licensed producer for between $4-$5 per gram.
Cannabis Oils Will be a Growing Revenue Stream
The Canadian medical marijuana market is saturated with mid-grade products and Licensed Producers are usually sold out of top quality flower.
One of the best solutions for Licensed Producers when they have too much product is to turn it into cannabis oil. This higher cost product increases the shelf life of medical cannabis and is attractive to consumers.
Emblem purchased oil extraction equipment in July and since its inception it has invested $1 million into this division. Demand for cannabis oils, especially high CBD oil continues to increase and this is a trend we expect to continue as researchers continue to learn more about its medical benefits.
Although Emblem will not have the problem faced by some producers, it will be able to create a better-quality oil through its flower.
Education Creates a New Patient Pipeline
GrowWise Health serves as the company's education vertical. It is operated as a joint venture between Emblem and White Cedar Pharmacy and provides a solution for physicians and patients looking to educate themselves about the Canadian medical marijuana industry.
GrowWise currently operates within four medical clinics and has one stand-alone medical cannabis clinic. The stand-alone medical cannabis clinic opened in November 2015 and since then, it has received referrals from more than 50 doctors.
The medical center it works out of prescribes cannabis and patients are referred to GrowWise after receiving a prescription. 95% of the patients register with a licensed producer on-site and GrowWise is partners with several preferred licensed producers, which expedites and streamlines the process for patients.
GrowWise is expanding its service is both platforms this year. The company will open 2 standalone clinics and 3 educational centers this year.
Backing it up with Science
Research into the medical benefits associated with cannabis is in the early stages and we continue to discover new treatments that are derived from cannabis. Emblem offers investors leverage to not only the legal cannabis market but also the cannabis pharmaceutical market.
Cannabis has medical benefits. GW Pharmaceuticals (GWPH) proved that when it passed Stage 3 Clinical trials with the FDA.
In the second quarter of 2017, Emblem Pharmaceutical President John Stewart will lead the launch of cannabinoid-based medications in customary pharmaceutical dosage forms such as liquids, gel caps, oral sprays and inhalers.
Stewart has over 30 years experience developing and commercializing pharmaceutical products. He has launched 11 new products and was the President and CEO of Purdue Pharma.
A Ground Floor Opportunity
Emblem is led by founders and a management team with a proven track record of success prior to starting the company. Since its inception, management has been able to execute on its plan and put the company in a position where it would attractive to capital markets.
We expect to see Emblem show consistent growth and improving fundamentals on a year-over-year basis for many years to come as it just recently received its sales license from Health Canada.
Its pre-IPO valuation is below $25 million and this is very attractive as it is significantly lower than other licensed medical cannabis producers in Canada. Although Emblem has a long road ahead of itself, we expect to see the company grow quickly due to its customer friendly infrastructure, premium product, and focus on education.
By early 2017, we expect to see the market catch on with Emblem's potential and this has created an attractive investment opportunity for investors looking for a stock that has growth potential and can survive a recession.
To learn more about this opportunity, email dannybrody@kindcann.com
By Michael Berger, President of Technical420.com
By clicking submit, you agree to our privacy policy & terms of service.
---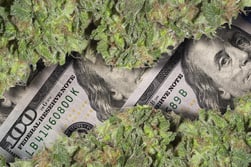 Supreme Cannabis Making Waves
03/17/2019 11:00 am EST
In February, the Supreme Cannabis Company (TSX: FIRE) made several announcements that highlighted it...