As Wages Rise in China, ¡Viva Mexico!
06/09/2011 8:00 am EST
Focus: GLOBAL
Markets maven and skeptic Marc Faber is bullish on Mexican stocks as the wage gap with China narrows, writes Ian Wyatt of SmallCapInvestor.com .
Famous contrarian Dr. Marc Faber, author of the Gloom, Boom, and Doom Report, recently sat down with Bloomberg News to give his current views on the global economy.
Dr. Faber remains bullish on gold and silver, and he anticipates a huge spike in US inflation—nothing new there. However, I was quite surprised to see how bullish he is on the Mexican economy.
According to Dr. Faber, Mexico—the 13th largest economy in the world—is largely misunderstood. Most investors seeking emerging-market exposure focus on the BRIC (Brazil, Russia, India, and China) countries.
But as Faber points out, Mexico is one of the world's largest developing economies as measured by GDP. On a per-capita basis, the Mexican economy is larger than China, India, or Brazil.
It is true that our neighbors to the south are coming back from one of the country's worst recessions on record. Reports of upward revisions in growth could translate into the potential for a good long-term investment.
Dr. Faber seems to think so. He continues to be pleasantly surprised by how well the Mexican economy is doing, and he thinks it will continue to outperform most emerging markets over the long term. The following chart from Bloomberg shows Mexico's outperformance.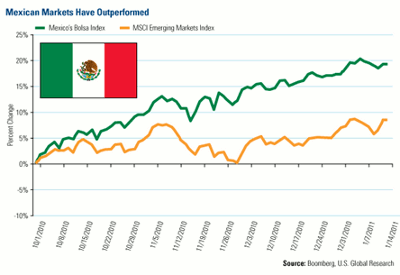 Click to Enlarge
His reasoning is as follows: Ten years ago, Mexican wage rates were 270% above China's. Now Mexico's wages are only 45% higher than China's, and they are trending lower.
What this means is that, over the next five to ten years, we could see Mexico take over the manufacturing leadership that China currently holds, particularly with Mexico's close proximity to the United States.
In theory, as the Mexican wage rate trends lower in comparison to China's, Mexico will attract more manufacturing jobs—thereby growing its middle-class and its economy. [So long as the soaring narco-violence doesn't scare investors away—Editor.]
If Dr. Faber is correct, and the Mexican economy is going to outperform the majority of global markets, investors want to have their portfolios positioned accordingly.
The Global X Mexico Small Cap ETF (MEXS) was appropriately launched on Cinco de Mayo (Mexicans recognize their army's unlikely defeat of the French at the Battle of Puebla in 1862 on this day).
It is the first ETF to target Mexican small-cap companies, and provides an excellent opportunity to play Mexico's ongoing domestic growth story. The ETF has only 28 holdings, heavily weighted toward the consumer discretionary, consumer staples, and industrial sectors.
There are a couple of drawbacks to the MEXS, however. While I like the idea of investing in Mexico's growing economy, I am a bit concerned by the low average volume and market capitalization of the ETF.
However, given the potential long-term growth prospects in Mexico, I do not want to miss out on what I think is an excellent investment opportunity. Therefore, until more volume moves into MEXS, I would opt to invest in the first Mexican ETF, the iShares MSCI Mexico Investable Market Index Fund (EWW).
The fund was launched over 15 years ago, and uses a mix of small-, mid-, and large-cap stocks. More importantly, the average daily volume is over 2 million shares.
As much as I would like to invest in Mexican small caps, I always steer clear of low-volume ETFs until they pick up in popularity with investors. Low-volume ETFs have a greater risk of being folded by the fund provider, and if this small-cap ETF doesn't catch on soon, I could see it having a similar fate.
I would prefer to move into EWW, to take advantage of the Mexican economy, and then sit patiently on the sidelines, keeping a close eye on the volume to take a position in MEXS.