China Is Coming Back
12/04/2012 11:15 am EST
Focus: GLOBAL
There are plenty of worries about the global economy, but China is becoming less of a concern, as domestic numbers are starting to look up, notes Jim Trippon of China Stock Digest.
After the tantalizing improvement in China's economy signaled by September's numbers, the good news for China continued.
October's numbers showed a further rise in economic activity, as the country begins to emerge from what had been a persistent slowing of growth. Improvements in infrastructure investment and factory output were indicators of the beginning of an economic recovery gaining traction, as factory output was the strongest in nearly half a year.
One of the key areas of China's economy, the hard-hit export trade, saw the second straight month of encouraging growth, as exports grew by 11%. This followed a surprisingly strong reading in September, when exports increased by 9.9%.
The all-important export trade accounts for about one-third or more of China's economy. Many analysts were unsure as to whether the rise in September's export trade would be followed by a strong October.
China's economy has been an export-driven economy for years, and its economic slowdown was initiated by the weak export trade with its main partner, the Eurozone countries. China had been trying to diversify its trade more to the US and the rest of Asia, including other emerging markets.
China's Commerce Minister Chen Deming was quoted in a Reuters article as being cautious on the data, however, as he termed the recovery "mild," and added that the 10% target for full year exports would be difficult to achieve.
Other Strong Data
Industrial production for the month of October grew at a 9.6% rate, while retail sales grew 14.5%. Fixed asset investment spending increased 20.7% for the first ten months of the year, though the growth of new projects started is in the 30%-plus range in the last couple of months.
Fixed asset investment, which had been responsible for about half of GDP growth this year, was expected to continue to be strong due to the government's fast tracking $157 billion in infrastructure and construction projects announced in the early fall. Industrial production growth had been lagging, and the consumer, viewed as an especially critical component in the economy by Beijing when the export trade was lagging, showed renewed strength.
|pagebreak|
Both the infrastructure spending and the consumer spending speak to the issue of internal domestic demand, one of the key components the government is attempting to address for not only its short term but longer term goals of restructuring the economy.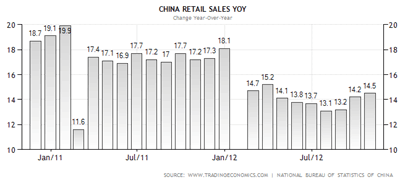 Click to Enlarge
Some of the other data was not only positive, but remarkably encouraging. Consumer inflation only increased 1.7% over October of last year, and was less than September's year-over-year rise of 1.9%. This was despite the monetary easing with several interest rate cuts the government had enacted.
A series of reserve loan requirement rates were lowered for the big banks beginning a year ago, which was estimated to have made available nearly $200 billion into the economy for lending. Also, two benchmark interest rate cuts as well as attempts to boost monetary supply were part of China's easing and stimulus measures. Growth has been spurred but inflation, always a worry on the minds of Beijing's policymakers, remains tame.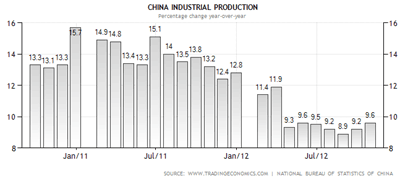 Click to Enlarge
The caution expressed by China's government officials is echoed by most analysts. While some economists are gearing up GDP growth forecasts of higher than 8% for 2013, the consensus is more of a wait and see view. Growth for the fourth quarter may exceed a 7.5% rise in GDP, but there are still areas such as corporate earnings which have been lagging and will take time to rebound.
This is particularly true in some of the larger SOEs, those in the industrial and commodity areas that have seen some still high input prices pressure selling prices, which caused profits to fall. The falling producer prices and their impact on corporate earnings will take some time to be fully reversed. China's policy moves, which have been part of its gradualist response to the slowdown, appear to have begun working through China's economy in a meaningful way.
China Stocks
Equities in China, which have seen values held down in the domestic market in Shanghai and other Greater China exchanges, have been showing promising signs notably on the ADR front.
US investors who have carefully been searching for value in Chinese shares have been able to have some success. With the direction of China's economy improving, now what remains is to see how consistent this accelerating growth will be.
Many companies on the domestic front, in consumer intensive sectors, should feel the benefit first. And although neither China's economy nor its equities will see a rise that's straight up, the October economic data shows a promising direction.
Subscribe to China Stock Digest here...
Related Reading:
What China's Elections Tell Us