Herbalife, Tupperware Win the Future
07/26/2011 10:30 am EST
Focus: STOCKS
Direct-selling stocks are red hot, riding consumer booms overseas while benefiting from the economic hardships on home soil, writes MoneyShow.com senior editor Igor Greenwald.
The best plays on emerging-markets growth and narrowing global income differentials won't be found in the thicket of country ETFs, or among the big US industrials grown fat on cheap Asian labor.
Bet instead on multi-level marketing schemes like Herbalife (HLF) and Tupperware (TUP), which have successfully married the poor world's desire to get rich quick with the American flair for selling.
Herbalife, the supplier of diet and nutrition supplements, has a stock that seems to sell itself. It's up 71% year-to-date, and almost tenfold since its 2009 bear-market low. Shares of beauty cream marketer Nu Skin (NUS) have better than doubled in two years and are up 33% in the last three months.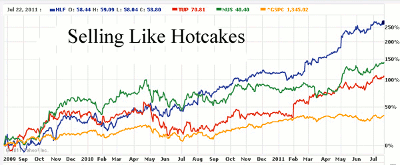 Click to Enlarge
Those stocks—as well as Tupperware, which reports earnings tomorrow—are at historic highs. There's only one Tammy Faye Bakker in the bunch, Avon Products (AVP), apparently having lots less luck with cheap mascara.
The industry has stood the test of time: Tupperware has been dishing plastic containers at house parties for 60 years. Herbalife sprouted in 1980, and has been publicly listed for a quarter-century.
But these are truly the best of times for the multi-level marketing model, which (in common with financial pyramid schemes) rewards members for recruiting new sellers with a portion of those sellers' income streams.
Hundreds of millions of Asians, Africans, and Latin Americans want to start businesses, but lack capital and homegrown support. What they have are extensive family networks and boundless energy.
Herbalife, Tupperware, and others don't require much capital, and provide plenty of marketing know-how. Better yet, such networks are mostly out of reach of official corruption.
The response has been tremendous. There are 15 million direct sellers in India alone (including many working for shadier outfits than, say, Amway.) There are said to be a further 2 million direct sellers in the Philippines, where the industry is growing by 10% to 20% a year.
In Herbalife's most recent quarter, 79% of its net sales came from outside English-speaking North America. For Tupperware, the figure was 70%.
Moreover, sales on the home turf have proven resilient, boosted by new recruits looking to earn some quick cash amid double-digit unemployment. This Herbalife video, made two years ago, shows how the company has used the financial crisis as a recruiting tool.
The inevitable success stories provide more motivation. "Direct selling has enabled us to put our children though university and pay for my daughter's wedding," one former housewife recently told UK's Independent on Sunday. "I also became the breadwinner when my husband was made redundant."
Though the stocks of Herbalife, Tupperware, and Nu Skin have obviously run a lot, they hardly look overpriced. Herbalife has a forward price-to-earnings multiple of 17, but also sells at 13 times trailing cash flow, while boosting sales 28% year-over-year, increasing earnings 69%, and boosting its dividend 60%, so that it now yields 1.4% annually.
Tupperware yields 1.7%, sells at 14 times forward earnings, and is delivering a 31% return on equity. Nu Skin fetches 15 times forward earnings, and yields 1.6%.
For those three names, "We believe strong business momentum and typically conservative outlooks augur well for good earnings-per-share growth and potential upside," Jefferies analysts Per Ostlund and Ann Gilpin recently wrote for Barron's.
"On balance, organic sales growth has remained solid—especially for Herbalife—for each of these companies vis-a-vis traditional packaged-goods companies throughout the current difficult economic environment, while foreign-exchange rates should provide a nice tailwind to reported results for these highly global companies."
They even like Avon, which reports Thursday, because expectations are modest. Herbalife has a much higher bar to clear on Monday, followed by Nu Skin on Tuesday.
One factor not yet getting much play, amid all the talk of a social networking bubble, is what a boon those social networks could prove for direct sellers. It's easier than ever to connect online and virtually leverage a direct-selling model's networking effect.
Social marketing is now the byword for many businesses—witness Tempurpedic (TPX) encouraging potential mattress buyers to ask around online what their friends think. But Herbalife has been studying the subject for decades, and I expect it to make the most of the opportunity.
The company is also benefiting from the growing global focus on obesity and related diseases. "They've made the statement to me that 'You sort of follow McDonald's (MCD) and Yum Brands (YUM) around the world, and five years later you have an obesity problem and they come in," analyst Timothy Ramey of D.A. Davidson said recently on CNBC.
It's the latest incarnation of the American Dream, suitably downsized: first we'll fatten you up, than keep you thin and busy selling to friends.
For many on this planet, that proposition still represents a big step up. Herbalife's success is proof of that.