Michael Kahn, who writes Quick Takes Pro, says the market's recent big rally may run out of steam soon as it approaches key resistance levels.
The market has entered what we call a high-risk area, not because it will not be able to rally or that it will immediately reverse if it does not like the jobs report [or earnings reports or some other piece of data], but rather because the risk/reward profile has gotten thinner.
The Standard & Poor's 500 index's rally from the low to 805 seemed like low apples thanks to oversold conditions, the worst sentiment we've ever seen, and up thrusts in price, volume, and breadth. The recipe for rally was certainly there and it worked.
But now, the up side we see is 875 from the current 834. There is a whole lot less room there, plus the market is closer to (but not at) overbought conditions. The S&P 500 is sitting on its 50-day [moving] average and not very far below it as it was before. Sentiment is in a whole different place than it was last month, too.
You get the idea. What the market has going for it now is short-term trend as it enters a monster resistance zone between 805 and 944 with 875 as a strong resistance within. And don't forget: The VIX is still above 40.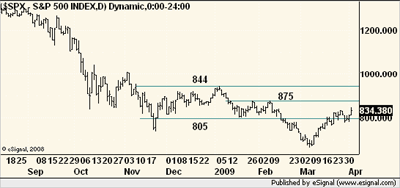 Here is the S&P 500 with support and resistance levels. It looks as if we have to respect Dave Landry's Big Blue Line concept that asks a 6-year old to identify the trend. We are back to looking at 875 as the top once again, assuming the jobs report does not shoot the bulls dead.
This is the hourly view of the index with the same support and resistance level carried through.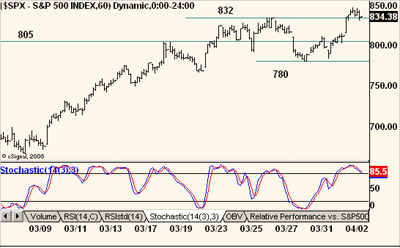 The choices, obviously, are:
1. A successful test of the 832 breakout—bullish for a run to 875
2. A failure back below—bearish for a run to 780 or worse
3. Something similar to mid-March when the index went over 805 and stalled.
Subscribe to Quick Takes Pro here…