3 Cloud Plays Floating Higher
12/07/2011 10:15 am EST
Focus: STOCKS
Even in a choppy market, these cloud-computing companies are getting support from institutional investors, with this week's buying spurred by recent M&A action in the sector, writes MoneyShow.com contributor Kate Stalter.
Enterprise software makers were in the spotlight Monday after SAP (SAP) said it would acquire SuccessFactors (SFSF) for $3.4 billion. The move is part of SAP's strategy to migrate more of its software services to cloud-based platforms.
Even before that news, a few companies from the business-software subsector were showing good technical action. The general industry was already viewed with optimism, following Oracle's (ORCL) October acquisition of RightNow Technologies (RNOW).
One name from the industry that bolted this week on the SuccessFactors news was Taleo (TLEO), gapping up nearly 20% Monday in monster volume to a new all-time high.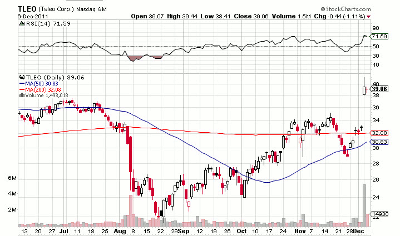 Click to Enlarge
Taleo, which specializes in human-resources software, was one among smaller growth names in the 2009 rally. Shares continued trending higher in 2010 and in the early months of this year. However, the fundamentals weakened in 2010, with year-over-year earnings up by only a penny, growth of just 1%.
That picture has improved this year, and Wall Street expects 2011 to wrap up with income of $1.03, a 32% gain. For 2012, profit is seen growing at a rate of 10%.
Technically, the stock had been correcting since pulling back from an all-time high in May. It declined almost 44%, a fairly steep rate, although it's common for growth stocks to drop more sharply than the major indices. The stock began etching the right side of that consolidation in August.
The stock is in buy range after its gap-up, but it wouldn't be unusual to see a pullback now, as investors who bought in the past few months—as the stock was climbing higher—now take the opportunity to pocket some profits.
However, the huge buying is a vote of confidence in a company that's also being viewed as an acquisition target, so once the stock digests some of the post-gap-up gains, it could be well-positioned to move higher.
|pagebreak|
Another company from the space that traders view favorably is the low-priced, speculative American Software (AMSWA). The maker of supply-chain-management software has a market cap of just $230 million, and it moves only 80,000 shares per day, on average.
Thinly traded stocks often show more volatile action than larger names, and American Software is a poster child for erratic intraday and intraweek moves.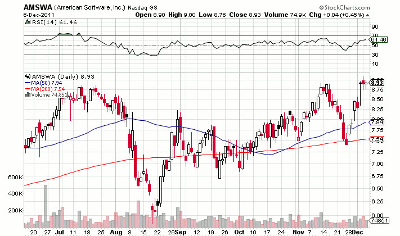 Click to Enlarge
Its volatility is evident in its beta, 1.35. Traders have been challenged by this stock, as it rallied out of a base the week ended November 11, then succumbed to market pressures and declined sharply in the next two weeks.
I had been tracking American Software in a model portfolio of low-priced stocks. The stock was buyable as it regained its ten-week average in heavy volume the week ended October 28.
The stock sliced that key price line on November 23, as the broader market collapsed. For me, that triggered a sell signal in the model portfolio.
However, the stock rebounded, notching a gain of nearly 20% last week. The move came after a better-than-expected second-quarter report. It rallied to a fresh high on Monday, but pulled back in mild volume in Tuesday's session.
I like the fast growth potential in lower-priced stocks such as American Software, but as this recent action illustrates, these names need to be handled with care. The stock is currently within buy range after last week's rebound, but as with all stocks these days, headlines from Europe or other negative news could send it swooning again.
Finally, NetSuite (N), maker of cloud-based software for corporate financial planning and customer relationship management, gapped higher Monday on the SAP-driven euphoria.
NetSuite's fundamentals are a mixed bag. Earnings growth levels have been slowing, although income grew at a healthy rate of 25% most recently. Revenue was also solid, up 23% from the year-ago quarter.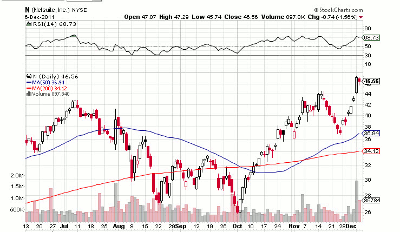 Click to Enlarge
The stock formed a bullish consolidation recently, undercutting the low of its prior consolidation. Like many other names, NetSuite began rebounding after the October 4 low on the major indices.
Also like other stocks, it retreated in late November as the markets sold off. In an encouraging sign, it got support at its ten-week line, signaling that professional investors were holding shares, and even buying a few more to bolster existing positions.
NetSuite bolted to an all-time high on Monday, but pulled back in market weakness on Tuesday. This is a stock to watch, as its consolidation could offer a new technical entry point.
Related Reading: