4 Chip Sector Earnings Reports to Watch
01/26/2012 9:35 am EST
Focus: STOCKS
Semiconductors have been among the fast movers this week, as earnings and M&A news drive trade. Four smaller companies may be poised to move along with quarterly results this week, as MoneyShow.com contributor Kate Stalter explains.
It's been a busy week already in the semiconductor sector, and several small-cap names from the industry are still due to report earnings.
Texas Instruments (TXN) said Monday that it sees demand rising, although that bright note didn't' help the stock on Tuesday. Shares were down about 1.7% in heavy volume, although the company also beat fourth-quarter earnings views.
However, a couple of mid-caps, chip designers Xilinx (XLNX) and KLA-Tencor (KLAC), received analyst upgrades, and the companies made comments that the current cyclical chip downturn appears to have bottomed. The semiconductor industry is notoriously cyclical, as it's tied to demand for new products, as well as economic shifts.
A big gainer Tuesday was Semtech (SMTC), which supplies the designs for chips used in a variety of applications, including mobile gear, automotive, and telecom networking. The California-based company said Tuesday that it would acquire Canada's Gennum (Toronto: GND) for about $500 million. The move will expand Semtech's capabilities in the networking category.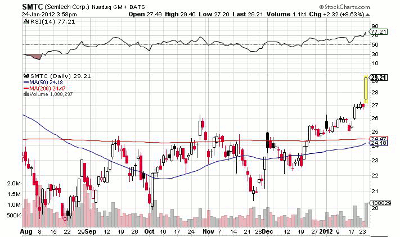 Click to Enlarge
Semtech bolted 7.7% Tuesday, surpassing $29 intraday. Volume was heavier than normal. The stock was close to clearing an eight-month price consolidation, and is worth watching this week, as it's currently in buy range.
After the close on Wednesday, Israel-based chip maker Mellanox (MLNX) reports its fourth quarter. The company skidded nearly 7% Wednesday as Intel (INTC) said it would acquire QLogic (QLGC), another small company specializing in networking chips. Investors believed the deal would put the squeeze on Mellanox's business.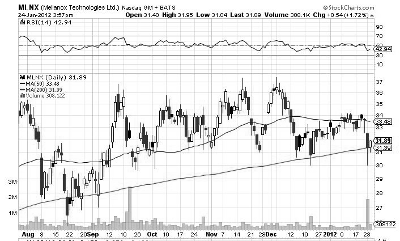 Click to Enlarge
However, earnings season can be especially productive for individual investors. While fund managers tend to operate in a buy-and-hold universe, with investment choices driven mainly by fundamentals, individual investors can track charts for technical signals that the big money is supporting a stock.
If Mellanox breaks through support at $30 after earnings, then it needs more time to consolidate. However, if the stock attempts to rally definitively above its 200-day moving average, it may be one to track in the coming weeks as a potential buy candidate.
Another small-cap, Ultratech (UTEK), is set to deliver fourth-quarter results on Thursday, before the open. Like Semtech, this stock fell into a steep, bottoming base in 2011, and has been working its way higher.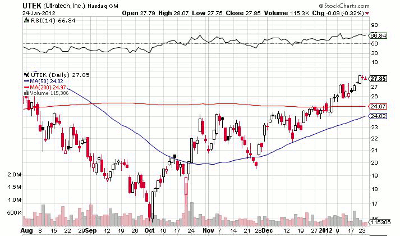 Click to Enlarge
However, unlike Semtech, it has some ground to make up before regaining previous highs. The maker of lithography and laser gear used in the chip-making process is expected to see a 25% earnings decline in 2012, to $1.10 per share.
That's not necessarily a price-growth killer, as those expectations are already baked into the stock, which is working on its fourth month in a row of upside trade.
Another battered small-cap tech name, Microsemi (MSCC), is also up later this week. It's due to report its first quarter after Thursday's closing bell.
The company makes mixed-signal and analog chips for wireless gear, as well as desktop and laptop PCs. Its products are also used in the telecom, aerospace and defense industries.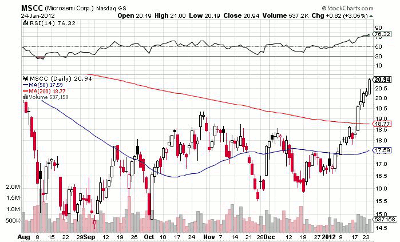 Click to Enlarge
This is another stock that's been on an upswing recently, gaining 3.5% this month after advancing nearly 12% in December. This is an extremely volatile stock, with a beta of 1.44, so investors need to be patient with it—or be prepared to sell and cut losses quickly, if necessary.
Finally, motion-processing chip maker InvenSense (INVN) reports late Thursday. The company, which makes chips used in mobile handsets, tablets and video gaming gear, has seen sales grow at rates of 43% or higher in each of the past four quarters. It's expected to show triple-digit earnings growth, to 45 cents a share, in 2012.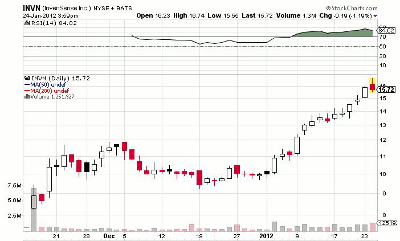 Click to Enlarge
The stock is a newcomer to the public markets, having made its IPO debut on November 16 at $7.50. On Tuesday, shares were trading around $15.80, a gain of 111% since the stock's launch.
The stock rallied to a new high on Tuesday—as it had done in each of the previous three sessions—but reversed sharply intraday. It's run up sharply in recent weeks, so a pullback would not be a big surprise.
It's currently nowhere near a technical buy point, and investors would need to wait for a proper entry point, regardless of how the stock moves after its earnings report.
Goldman Sachs recently put a Buy rating on the stock, citing potential from a growing market for phones using Google's (GOOG) Android operating system.
At the time of publication, Kate Stalter did not own positions in any of the stocks mentioned in this column.
Related Reading: