3 Software Plays with Charts in the Clouds
02/15/2012 8:45 am EST
Focus: STOCKS
Many software-industry small caps that focus on specific industry niches have been sporting good price appreciation lately. As earnings season rolls on, here are three names to keep an eye on, writes MoneyShow.com contributor Kate Stalter.
Although there was much media fanfare Monday as Apple (AAPL) reached $500, small caps are outpacing their larger cousins' price growth so far in 2012.
The cloud-based business software has been in the spotlight recently, with small caps clearly setting the pace for gains.
Oracle (ORCL) last week said it would acquire small-cap human-resources software maker Taleo (TLEO) for $1.9 billion. Mega-cap, legacy software maker Oracle is joining others from its industry in making the move toward software as a service rather than software that's installed on-premises.
Another small-cap that was recently snapped up by a whale is DemanTec (DMAN). IBM (IBM) is acquiring the maker of cloud-based business analytics software for $440 million in cash.
I don't ever consider it advisable to buy a stock because it might become an acquisition target at some point, but the recent M&A action shows that cloud-based business software is a hot industry.
LivePerson (LPSN), another cloud play, makes customer service software for online retailers. Prior to its fourth-quarter report after Monday's close, the stock was forming a bullish consolidation along its ten-week average.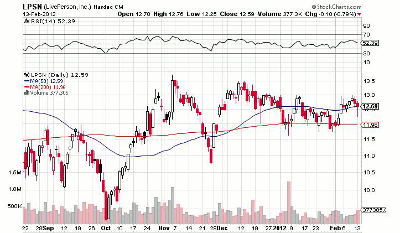 Click to Enlarge
Price action in recent months has been constructive. When the stock pulled back to a low of $9.22 in early October—along with the general market decline—it undercut the low of its prior consolidation.
That frequently leads to bargain shopping, which sends a stock's price higher; that's exactly what occurred with LivePerson. It finished October with a gain of nearly 27%, and has meandered along near its ten-week line since then. It made two unsuccessful attempts to clear resistance above $13.50.
After hours Monday, the stock shed 13 cents per share, or 1.05%, to $12.46. Revenue fell short of Wall Street views. The low end of its guidance for the current quarter was lower than analysts anticipate.
Ebix (EBIX) is another smaller enterprise software name that's been showing good technical strength. It's up almost 5% so far in February, its fifth month in a row with gains.
The company makes software for the insurance industry. It's posted a strong track record of earnings and revenue growth in recent quarters, although analysts see an income decline of 2% in 2012, to $1.41 per share.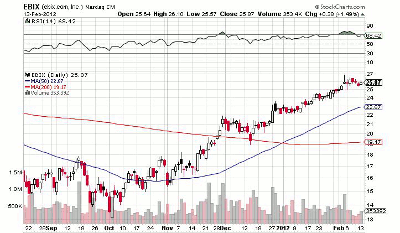 Click to Enlarge
Ebix has a market cap of around $926 million. It has decent liquidity for a small stock, moving around 467,000 shares per day on average.
However, like many small caps, it tends to trade in a volatile fashion. Its beta is currently 1.73, a sign of that volatility vs. the broader market. That means that investors need to use more caution than they would with a blue chip, which might have longer staying power in a portfolio.
While smaller stocks often pull back harder than the broader market in a downturn, they can also post bigger price gains in a bull rally. These are often stocks that should be sold to pocket gains, rather than held, during corrections.
At the moment, Ebix is still emerging from a steep base. It corrected 57% between March and October of last year, and still has some work to do before regaining previous highs.
The stock flashed a technical buy signal in December, when its ten-week line crossed above its 40-week. Since then, it has not pulled back to the ten-week for an alternate entry point. However, it appears to be digesting gains in the past two weeks, and may stop for a breather, allowing new buyers to grab shares.
The company reports earnings next month. As usual, guidance that's better or worse than what's expected could send the stock moving sharply in one direction or the other.
Niche software for specific industries is not only good business, but some of these companies' stocks have been good investments. DealerTrack (TRAK) specializes in software that connects car dealers with consumer lenders.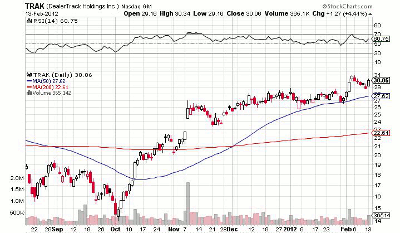 Click to Enlarge
Like Ebix, it's working on five months of upside trade. However, this stock rallied to five-year highs earlier this month. It pulled back and found support at its short-term ten-day moving average, a good sign of continued investor confidence.
DealerTrack is currently in a technical buy range, as it takes a breather just below its old high and above its ten-day average. The company reports earnings after the close on February 21, so there could be some big movement on any news.
At the time of publication, Kate Stalter did not own positions in any of the stocks mentioned in this column.
Related Reading: