The Good, Bad, and Ugly of 3 Chip Stocks
03/28/2012 1:45 pm EST
Focus: TECHNOLOGY
The chip sector as a whole is being dragged down by some laggards, but some of the better performers have charts worth reviewing. MoneyShow.com contributor Kate Stalter looks at a well known megacap and two smaller names.
In the notoriously volatile semiconductor space, it's frequently been the case in recent years that the best performers have not been the much-heralded big caps, but smaller, relatively unknown companies.
Although Intel (INTC) is showing strong chart action, there are some upstarts flashing even better technicals. But before digging deeper into the sector, it's worth taking a look at Intel: Investors seeking a large, stable, dividend payer that also shows good price appreciation might want to glance at this DJIA component.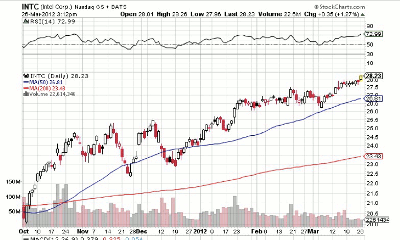 Click to Enlarge
Intel climbed to a four-year high on Monday, after getting solid support above its ten-week moving average in recent weeks. That kind of support is a signal that institutions are holding shares, and even adding to their positions.
Of course, Intel made its upside move in tandem with the broader market. About three-fourths of stocks will move with the major indices. In addition, stocks frequently travel in packs—meaning that a certain sector or sub-sector will be home to a number of leading technical performers.
In the case of the chip sector, there are still plenty of laggards. But one clear leader has been recent IPO InvenSense (INVN), a Sunnyvale, California-based maker of integrated circuits for tablets, game devices and smartphones. The stock went public in November at $7.50.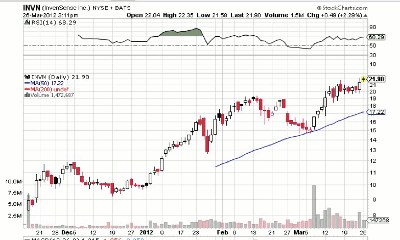 Click to Enlarge
I've been tracking InvenSense since January, when it bolted out of its first post-IPO consolidation. It rocketed to an intraday high of $19.34 on February 14, then pulled back to its ten-week line. Like Intel, InvenSense offers an example of institutional conviction in a stock.
InvenSense rebounded in heavy volume—another sign of healthy professional buying—and as of Monday, was in new high ground. This is a stock that's currently extended too far from its most recent buy point above $19.34, but the next pullback may well offer a new buy opportunity.
Like many less-well-known recent IPOs, InvenSense is a small cap, with a capitalization of around $1.7 billion. It's got good liquidity, moving around 1.5 million shares a day.
However, be alert for wide price swings. Although there is more trading volume here than you see in many smaller, newer stocks, it is still prone to some intraweek volatility, meaning retail investors could easily get shaken out.
InvenSense is expected to report earnings on or around April 26, so those results—or the company's guidance—could provide a catalyst for a price move in one direction or the other.
A stock that's been a good chip-sector name is Silicon Motion (SIMO). The Taiwan-based small cap is showing some promising chart action, but there are also some red flags.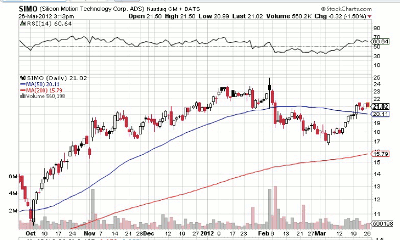 Click to Enlarge
The stock was an excellent technical performer in the last quarter of 2011, and through January of this year. However, it's been consolidating price gains above its 200-day line since taking a tumble in early February.
The consolidation is taking shape in a more or less orderly fashion, but there are some potentially troublesome aspects regarding the timing.
First, the current pullback marks the fourth in a series going back to the bear market of 2008. The stock has rallied higher over the past three years, a sign of strength. However, it has not pulled back enough to undercut the low point of a prior consolidation.
While that intuitively seems like a good signal, every stock needs a breather occasionally to flush out some excess and clear the way for bargain hunters to grab shares on the cheap. The longer a stock runs up without such a pullback, the greater the chances become that such action is overdue.
Another potential problem with the timing of Silicon Motion's pullback is the price action of other stocks in the market. Many better technical performers—such as Intel and InvenSense—are rallying to multi-year or all-time highs. A stock like Silicon Motion that's still mired in a consolidation is showing laggard tendencies.
I'm not suggesting that Silicon Motion should be permanently written off…only that there's reason to use caution at this point. The company designs storage and data processing technologies for many of the same hot consumer-electronics products that are boosting InvenSense's growth.
Wall Street sees double-digit earnings growth at Silicon Motion in the next two years, and the company has a solid track record of revenue and earnings growth—both factors that can be precursors to further price gains.
However, I make buy and sell signals based on charts, and at the moment, this stock's chart is giving me some reasons to avoid jumping in too quickly.
At the time of publication, Kate Stalter did not own positions in any of the stocks mentioned in this column.
Related Reading: