The Week Ahead: Can Energy Stocks Fuel The Next Market Rally?
Focus: STRATEGIES
The energy sector certainly has the potential to kickstart the weak markets, but investors will need to watch for a number of key events outlined here by MoneyShow's Tom Aspray.
Stocks moved lower last week, as the rally attempt on Thursday fizzled and stocks closed mixed on Friday.
For some of the averages, it was the worst weekly loss of the past four months. The Spyder Trust (SPY) has declined for three out of the past four weeks, but is still only down 3.4% from the highs.
Many measures of the stock market have relieved their overbought readings from the September 14 highs. On that day, more than 80% of the stocks on the NYSE Composite were above their 50-day moving averages. This was one standard deviation above the mean of 57%.
Now only 57% of the stocks are above their 50-day MAs. A drop below 40% would be slightly oversold, but in June it hit a low of 11%, which was very oversold. In a market uptrend, the current reading is enough to support a new rally phase that could take the market to or above the recent highs.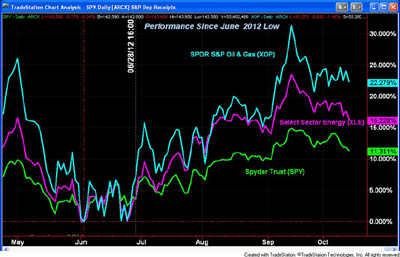 Click to Enlarge
The energy sector has the potential to fuel the next market rally. The performance chart above shows how the SPDR S&P Oil & Gas ETF (XOP), the Select Sector SPDR Energy (XLE), and the Spyder Trust (SPY) have done since the June lows.
On June 28, both XOP and XLE moved decisively above SPY, and have been outperforming the overall market ever since.
!--start-->!-->
---