Of Black Swans and Survival
01/01/2013 7:00 am EST
Focus: MARKETS
Well, we've beaten the Mayan end of days scenario and the asteroid has yet to hit...but there are real dangers that investors need prepare for nonetheless, writes Richard Young of Intelligence Report.
Social as well as financial unrest is on the way—you can count on it. So how are you doing with your financial and personal security audits?
When the coming Black Swan event hits, there will be no warning. It will be too late to prepare or adequately respond. Your goose will be cooked. Your family members may not thank you. Tensions will boil over instantly when the harsh reality of chaos overwhelms you.
Sound like I am overly concerned for your welfare? Read again what I have just outlined for you above and re-think your position. The unprepared will suffer devastating portfolio losses and, as far as the home front goes, well…
You Cannot Lose Capital
Ponder the power of reverse compounding. Are you retired or soon to be? If so, you simply cannot afford to lose capital. Am I clear here? You must not lose. Forget making. Rely on a dependable flow of dividends and interest. And do not get greedy.
Ponder this toxic math: With interest rates well below 2%, you need at least 36 years to get back even when you lose 50% on an investment, never mind your complete portfolio. Even at 4%, you would need 18 years to get even.
How about 8%? Sorry, it would take ten years simply to get back to the starting line, and that's without any draw for the entire decade. No cash to you. And you will pay your living expenses how?
Personal Security Central
Post-election Americans now face an increasingly dangerous environment in terms of personal as well as financial security. Take the pulse around you. Don't you sense the tension?
We now live in two Americas, and I look for separation to become a structural problem for our country. The takers now outnumber the givers. When that tipping point is reached, a country begins its decline toward third-world status. Americans had a chance to reverse field in November, but chose not to reverse. However, not many good options were offered.
I doubt your concern is as powerful as is mine. I write to you only about conditions that I believe you can deal with, sans panic. Were I to unfold for you the underpinnings of my research, your level of concern would be, let's say, heightened.
As such, Young Research has calculated a nifty Survival Index, which includes companies that figure to benefit in a setting of compromised security. I have included a performance chart for you.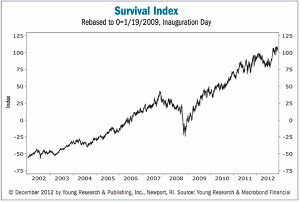 Click to Enlarge
Our Survival Index companies include Sturm Ruger (RGR); Hormel Foods (HRL); Smith & Wesson (SWHC); Generac (GNRC); Goldcorp (GG); Barrick Gold (ABX); Lancaster Colony (LANC); Energizer (ENR); and Campbell Soup (CPB).
Related Reading:
The Law of Unintended Consequences
Not Much of a Plan B
The Fiscal Cliff and Hyperinflation