The Week Ahead: When Will the Fat Lady Sing?
Focus: MARKETS
The fiscal cliffhanger resolution, coupled with a strong start to earnings season, has fueled a strong stock market rally in the first full trading week of the year. Sectors and other markets are cooking with gas as well—except for one—notes MoneyShow's Tom Aspray.
Stocks surprised the market skeptics last week because while most of the major averages showed little change, the market did not go down as most expected. The standout was the Dow Jones Transportation Average as it moved above the 2012 highs and is close to its all-time highs.
While the early 2013 stock market rally has been impressive the sharp increase in some key interest rates has also caught investors' attention. The yield on the 10-Year T-Note just dropped slightly from the end of 2011 to the 2012 year-end yield of 1.765%.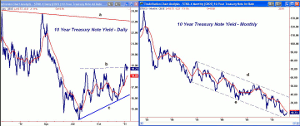 Click to Enlarge
But there were plenty of wide swings during the year as yields hit a high of 2.34% in March and a low of 1.39% in July. Since early in December, yields have risen from a low of 1.56% to close at 1.87% this week. Is the fat lady now singing that interest rates have bottomed and that bonds are topping out?
The daily chart shows a strong rally from the July lows, line c, and the break through resistance at the September highs (line b). The daily chart reveals quite a bit of resistance between 1.90% and 2.06% from early in 2012 with more important now at 2.31%, line a, which connects the late 2011 and early 2012 highs.
Though one might conclude from this daily chart that rates have bottomed, one must examine the recent action in terms of the long-term yield chart (on the right), which goes back to 1985 when the yield was 13.8%.
Since 1995, yields have been in a pretty well-defined downward channel, line d and e.
!--start-->
---