Join Keith Fitz-Gerald LIVE at The MoneyShow Dallas!
Join Keith Fitz-Gerald LIVE at The MoneyShow Dallas!
Japan: All Bets Are Off
06/27/2013 6:30 am EST
Focus: GLOBAL
He's bearish on both Abenomics and Japan, and so it's not a surprise that Keith Fitz-Gerald of Money Morning says it's time to short Japan's stock market.
After rising 80% from last year's lows, Japanese stock prices made a U-turn and fell more than 18% in ten consecutive trading sessions.
Japanese Prime Minister Shinzo Abe has pulled out every stop, but the markets won't think it's enough for much longer. This actually isn't his fault. The markets completely ignored history and built in such outrageous expectations that anything short of an economic miracle will be disappointing.
Is such volatile trading the start of a major reversal, or a precursor to still-higher trading ahead? And what can you do about it?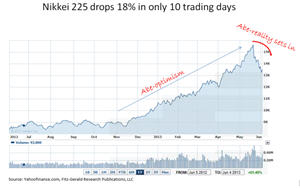 Click to Enlarge
Let's start with the notion of a reversal. Parabolic charts are never good, no matter what asset class, stock, or individual security you're considering. Parabolic charts like the Nikkei's over the past 12 months have historically suggested imminent collapse.
When Prime Minister Abe introduced his plans to inject three times the amount of comparative stimulus Bernanke had into his country's economic machine—despite the fact that it is one-third the size of the US markets—it was viewed as a good thing because it would weaken the yen.
As an export nation, the weaker yen would make Japanese products more competitive globally. The Nikkei took off. But Japan has no raw materials of its own to speak of. Therefore, in order to build up exports, Japan's industrial giants would have to build up raw material imports—sharply. And that's exactly what's happened.
Imports are threatening to overwhelm any competitive advantage from lower-priced exports, because the costs of manufacturing jumped significantly, especially for energy-related expenditures. Very shortly, this is going to work its way into quarterly reporting and the numbers won't be good.
This exposes another dangerous flaw in Abe's programs. Investors and politicians alike have assumed that Prime Minister Abe and his sidekick, Bank of Japan Governor Haruhiko Kuroda, want higher inflation because their unlimited stimulus programs are supposed to more than double it to 2%. In reality, Abenomics is supposed to end deflation.
I'm not splitting hairs. Stopping deflation is very different from creating inflation, especially when you're talking about the imports.
Over 50% of what Japan imports is initially priced in dollars. Over time, what this suggests is that the short-term boost in exports will be cannibalized by the rising cost of imports when prices adjust, effectively negating Abenomics' gains.
So now what? Japan's got an identity crisis. Take Japanese bonds. Abe's policies should create inflation and that's a bond killer. Yet the policies continue to monetize debt, buying lots of bonds.
The result is unprecedented volatility in government bonds and four global stock-market swoons in the last eight weeks, caused by Japanese Value at Risk (VaR) models coming unglued because of it.
Japan has any number of structural challenges:
Their energy markets remain completely dependent on global pricing and largess, as Japan imports at least 80% of its energy.
Most of the country's economic system is hopelessly over-regulated, and policy changes move at glacial speed.
Trade remains very protectionist, especially in agriculture.
Compounding all this is a near-completely unworkable immigration policy and demographics that are going in the wrong direction, as Japanese citizens age.
Sadly, as much as I love Japan, its people, and its culture, the better bet right now is against its politicians.
1. Short the yen. After a period of base building in the neighborhood of 100 to the dollar, I expect it to weaken to 150 over the next 24 months.
2. Short Japanese government bonds. When the Bank of Japan loses control, it's going to be a major liquidity event worldwide. The PowerShares DB Inverse Japanese Government Bond Fund (JGBS) is designed to exploit the breakdown in Japanese government long bonds as rates rise and the situation deteriorates.
3. Short Japanese equities. If VaR models get out of line again, the selling will be very fast and very intense. One way to capture that is via the ProShares UltraShort MSCI Japan (EWV). Or simply go short the Nikkei-225 itself. But do it in stages. Better yet, average in by building a position over time.
At the end of the day, nobody likes to bet on economic failure. But it sure can be profitable if you can get over any hang-ups you have about doing so.
Read the rest of Keith Fitz-Gerald's "How to Profit from Japan's New Lost Decade" at Money Morning.
Related Articles: