Prepare for a Seasonal Sweet Spot?
10/09/2014 9:00 am EST
Focus: STOCKS
Although September and October can prove to be scary for investors, they often produce buying opportunities, observes Mike Burnick in Money and Markets.
Let's review the seasonal trends and where we are now in the stock market cycle. A closer look at the evidence suggests a buying opportunity may be just around the corner.
In spite of the September swoon, there's a very good reason for optimism: We have just entered the seasonal sweet-spot for stocks.
The stock market and broader economy tend to follow cycles. And it's uncanny how often these patterns repeat, not every year mind you, but often enough to profit. And perhaps the most powerful pattern of all is tied to the four-year election cycle in the US.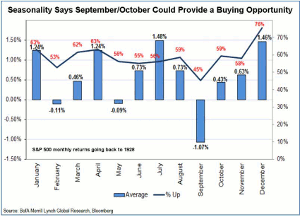 Click to Enlarge
Right now we're in the mid-term year (or year #2) of the four-year Presidential Cycle. Based on almost a century of data going back to 1928, this cycle hits a bullish peak from September of the mid-term election year (right now) through August of year #3.
The average return for the S&P 500 (SPX) during this period is 19.6%, over just three-quarters of a year. This compares quite favorably to the average full-year gain of just 7.5% for the S&P in all years, nearly three-times the upside potential.
In fact, the next three quarters are the three best consecutive quarters of the Presidential Cycle based not only on historical returns, but also the persistency of stocks rising.
The fourth quarter of year #2, which began Wednesday, is up 86% of the time and posts average gains of 6.5%.
First quarter of year #3 (January-March, 2015) is up 81% of the time with stocks rising 5.7% on average.
And the second quarter (April-June) is up 71% of the time with an average gain of 4.7%.
These results are well above the norm, almost three times better, than the 1.9% average quarterly gain for the S&P 500 going back to 1928. Bottom line: Corrections are perfectly normal from time to time; they come with the territory.
What is unusual is that we haven't had more than a 10% pullback in stocks since 2012, so you could say we're overdue. But the most bullish phase of the four-year Presidential Cycle began October 1 and there is plenty of upside potential ahead for stocks over the next few quarters.
If history is a guide, this correction should result in a wonderful buying opportunity for a yearend rally…that may continue well into 2015.
Subscribe to Money and Markets here…
More from MoneyShow.com:
The Adens: What Next for Stocks and Bonds?
Seasonal Timing and a Sinister Sub-Cycle