Join Michael Berger LIVE at The MoneyShow San Francisco!
Join Michael Berger LIVE at The MoneyShow San Francisco!
GWPH: Breakthrough Products and Upcoming Catalysts
10/20/2015 9:21 am EST
Focus: STOCKS
The recent correction in the biotech sector was long overdue, and while Michael Berger, of Technical420.com, doesn't believe the sell-off is over, he does feel that investors can find value in companies—such as this one—that are developing breakthrough products and have upcoming catalysts.
One of the sectors that have been hit the hardest during the last three months is the biotech sector and many investors are wondering if it is time to buy. Although recent weakness has made many biotech investments look attractive, we remain on the sidelines with many blue chip investments at current levels.
The recent correction in this sector was long overdue. Despite this recent weakness, the iShares Nasdaq Biotechnology ETF (IBB) is up more than 250% during the last five years. That is an unbelievable rally for an entire industry and its performance crushes the S&P 500's (SPX) own amazing rally of nearly 70% during that span of time.
Since trading at record highs on July 18, IBB has fallen approximately 22%. While we do not believe the sell-off is over, investors can find value in companies that are developing breakthrough products and have upcoming catalysts. One of such companies is GW Pharmaceuticals (GWPH).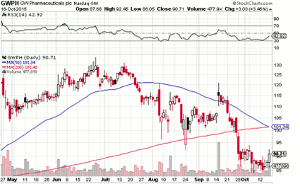 Click to Enlarge
GWPH is focused on developing cannabinoid-based medicines that treat a variety of illnesses. During the last three months, shares have fallen by more than 27% and GWPH seemed to have found a bottom in the $84-$85 range. We are favorable on GWPH due to the upcoming catalysts, improving Wall Street estimates, and focus on the United States market.
Deep Pipeline of Products
Several data readouts are expected to be released in 2016. In addition to the first Phase 3 trial for Epidiolex in Dravet's, a second Phase 3 trial in Dravet's, and two Phase 3 trials in Lennox-Gastaut Syndrome (LGS) will read out in the first quarter of 2016.
GWPH expects to announce data readouts for a number of indications during 2016. These include schizophrenia, glioblastoma and diabetes. While the breadth of GWPH's pipeline is encouraging, investors remain focused in the near term on Dravet's and LGS for Epidiolex.
NEXT PAGE: How Are Other Companies Reacting?
|pagebreak|
GWPH is conducting four Phase 3 clinical trials for its Epidiolex product. Two of these trials are targeting Dravet's syndrome and the first trail is fully enrolled. The company is also targeting Lennox-Gastaut Syndrome (LGS) and the two Phase 3 trials are underway. Top-line data is expected to be announced during the first quarter of 2016.
Improving Wall Street Estimates
In August, GWPH announced that Morgan Stanley (MS) initiated coverage on GWPH with an overweight rating and a $150 price target.
Bank of America (BAC) recently raised their price target on GWPH from $115 to $155. BAC raised its price target because of the positive response patients had from the company's Epidiolex product. BAC also increased the percentage chance that the drug gets approved. 90% of the patients who started therapies remained on the drug. The $155 price target includes: $133 for Epidiolex, $7 for CBDV, $4 for Sativex royalties, and $12 for cash.
In mid-March, GWPH was added to Bank of America's International Equity Portfolio. A 2% allocation was added to the portfolio. A month later, BAC increased their position in GWPH to 3.5% of the portfolio.
During the quarter, Cowen and Company raised their price target to $135 from $110 and Leerink raised their price target to $120 from $102.
Focused on the United States Market
In late July, GWPH appointed Julian Gangolli as the President of North America operations and announced that he is a member of the Board of Directors. Gangolli has extensive experience in product commercialization and he has a successful track record of launching and growing specialty pharmaceutical products in the US.
From 2004 until April 2015, Gangolli was President of the North American Pharmaceutical division of Allergan, Inc. He was responsible for a 1,400-person integrated commercial operation with sales exceeding $3.8 billion in 2014.
GWPH announced that they are relocating its CEO Justin Gover to the United States where the company is preparing to launch Epidiolex and Sativex. GWPH will build out its commercial infrastructure and operate out of Southern California. Gangolli will play a major role in this process and his experience will be complemented by Glover's relocation.
Michael Berger, Founder and President, Technical420.com