Aurora Possesses the Right Traits
11/24/2015 9:22 am EST
Focus: CANNABIS INVESTMENTS
When it comes to investing in the cannabis industry, investors need to be cautious and focus on companies that are well capitalized and led by a management team with a proven track record, and Michael Berger, of Technical420.com, thinks this company fits the bill.
While the United States cannabis stock market has continued to trade down, we have seen the opposite in Canada. During the last month, Canadian cannabis stocks have quietly outperformed the entire market. The catalyst for the rally was the Canadian general election on October 19 in which Justin Trudeau's Liberal Party was victorious. Before the election, Trudeau promised to legalize recreational cannabis if he was elected.
Less than two weeks after Trudeau was elected, many publicly traded Canadian cannabis stocks saw the price of their stock double. Although the run these companies had was great, no rally lasts forever and in early November, stocks began to come down from their highs.
Selectivity Is Key to Success
Investors need to be cautious and focus on companies that are well capitalized, led by a management team with a proven track record, have a sound financial structure, act in the best interests of shareholders, and continue to execute on business initiatives. One of the companies that possesses these traits is Aurora Cannabis, Inc. (CNSX: ACB) (OP: ACBFF). Aurora is one of the 26 federally licensed producers in Canada and they are the only one in the province of Alberta which has a population of 4.1 million people.
Aurora trades on both the Canadian and United States stock exchange. The company's Canadian symbol is ACB and its United States symbol is ACBFF . During the last month, ACB and ACBFF have rallied 53% and 51% respectively. Both ACB and ACBFF have come down from their post-election highs and ACBFF is no longer trading in overbought territory. Aurora has several catalysts for growth and this correction has created a great opportunity for investors.
NEXT PAGE: Recent Developments and a Possible Catalyst in 2016
|pagebreak|
When looking at Aurora's growth catalysts, none is more significant than Health Canada approving the company's license to sell medical cannabis. Currently, Aurora is only allowed to cultivate medical cannabis and they have a substantial amount of inventory ready to be shipped to registered patients. Once Aurora receives a sales license from Health Canada, the company will be able to start registering patients. If recreational cannabis is approved in the near future, Aurora will have the inventory needed to capitalize on the increased demand.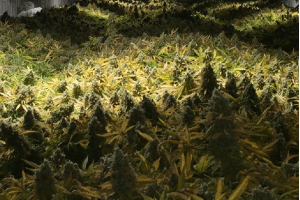 Over $1M of product grows in 8 weeks inside just one of Aurora's ten federally licensed production bays.
Click to Enlarge
In a League of Their Own
Aurora possesses several traits that set them apart from the competition. The company has brand new state-of-the-art facilities and is led by a management team that has skin in the game. To date, CEO Terry Booth and President Steve Dobler have personally invested more than $6 million into the company and this lowers the risk of dilution for shareholders.
Aurora's new facility is fully licensed for production and is one of the largest in the country, capable of producing over 5,400 kg of cannabis per year. Aurora is able to cultivate pharmaceutical-grade cannabis at a cost that is significantly lower than its competitors.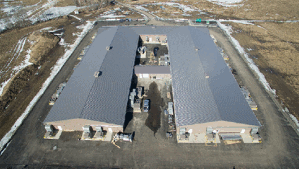 Click to Enlarge
Many cannabis producers incur high energy and water costs which impacts its bottom line. Aurora, however, has the rights to fresh mountain water on its 160 acre property in the foothills of the Rocky Mountains. As such, they do not incur any water costs. Aurora also has an automated cultivation process which maximizes efficiency and increases its yield.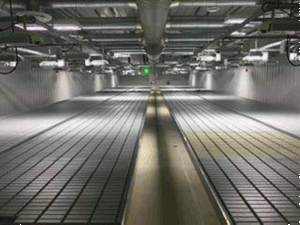 Click to Enlarge
In early November, Aurora entered into a letter of intent with Mystabis for exclusive distribution rights to its inhaler that provides measured doses of cannabis to patients. This is a device the medical community has been waiting for. Under the agreement, Aurora is the sole distributor of the device in Canada.
Outlook
Recent developments in Canada have made the country a leader in the cannabis industry and we expect to see further regulation reform during 2016. Continued reform will be a catalyst for Canadian cannabis stocks and investors need to focus on companies that are levered to this growth.
In order to be successful, an investor must not try to time the market but instead should be able to indentify stocks that possess traits similar to Aurora.
Michael Berger, Founder and President, Technical420.com
By clicking submit, you agree to our privacy policy & terms of service.
---