Join Jeffrey Hirsch LIVE at The MoneyShow Las Vegas!
Join Jeffrey Hirsch LIVE at The MoneyShow Las Vegas!
Seasonal Gains for Energy
12/09/2015 9:00 am EST
Focus: ETFs
Jeffrey Hirsch is a leading expert in uncovering seasonal trading opportunities; here, the editor of The Stock Trader's Almanac looks at a timely play in energy.
In the chart below, the NYSE Arca Oil Index (XOI) of oil producing companies has reasonably closely tracked its seasonal pattern this year peaking in May then falling to an early-October low where it bounced.
Since bouncing off multi-year lows in August and again in October, XOI has essentially moved sideways for the past seven weeks.
Should XOI fall back in line with its seasonal pattern, another buying opportunity is likely sometime later this year or earlier next year.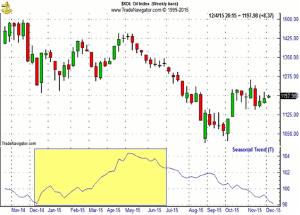 Click to Enlarge
Oil companies typically come into favor in mid-December and remain so until the beginning of July (yellow box in chart above).
This trade has averaged 11.9%, 11.6%, and 7.5% gains over the last 15-, 10-, and 5-year periods,
This seasonality is not based upon the commodity itself; rather it is based upon XOI. This price-weighted index is composed of thirteen of the largest integrated oil and gas producers.
We will look to add the following ETF to the portfolio on a dip:
SPDR Energy (XLE) is the top pick to trade this seasonality. A new position in XLE could be established on pullbacks with a buy limit of $66.10. Employ a stop loss of $59.49. Take profits at the auto sell of $81.36.
Exxon Mobil (XOM) is the top holding in XLE at 17.15%. The remaining top five holdings of XLE are Chevron (CVX), Schlumberger (SLB), EOG Resources (EOG), and Occidental Petroleum (OXY).
Subscribe to The Stock Traders Almanac here…
More from MoneyShow.com:
Sectors, Performance, and History
Outsized Dividend Supports Exxon