Signs of a Recession?
03/03/2016 9:00 am EST
Focus: STOCKS
Are high yield bonds pointing to recession? asks Joon Choi, technical expert and contributing editor to Systems & Forecasts.
Bank of America Merrill Lynch US High Yield Master II (HY Index) is a high yield bond index that was created in 1997.
This index—which we refer to the HY index—tracks publicly issued US debts that are below investment grade and is used as a benchmark for many high yield products.
High yield bonds—aka junk bonds—have been under pressure for the past nine months as the HY Index has fallen 12.6% since May, 2015; this is greater than SPY's 10.17% loss for the same period.
Even the index's drawdown was slightly larger than that of the S&P 500, a loss of 13.08%, a loss of 13.01%.
This is the first time that the HY Index fell more than SPY after a 10%+ equity correction since the index was created in 1997.
Prior to presenting our conclusions, I want to provide a brief overview of the two primary factors that affect junk bonds yields:
Interest rates—declining interest rates usually lead to lower bond yields and higher prices. Increasing interest rates have the opposite effect.
Credit worthiness—as the economy weakens, yield on the junk bonds tends to rise; independent of the interest rate environment, due to increased default likelihood on speculative bonds. This is why the bond yields of corporations with junk credit ratings tend to soar during the early stages of recession.
Since the creation of the HY index, junk bond yields have risen 3.5% from the prevailing lows on three occasions.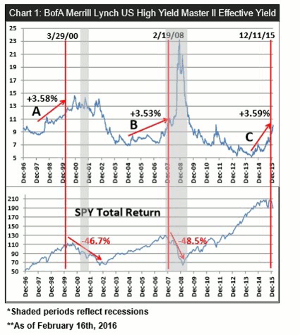 Click to Enlarge
The effective yield rose 3.58% from February 18, 1998 to March 29, 2000 (point A) and a recession followed a year later along with a 46.7% equity sell-off.
The yield rose in excess of 3.5% again on February 19, 2008 (point B), which occurred after the recession had started a couple months prior. SPY again experienced a deep correction as it retreated 48.5%.
On December 11, 2015, the yield crossed the 3.5% level once again (point C) which suggests that a recession may be on the horizon along with a major correction if history serves as a guide.
During the periods when the effective yield rose more than 3.5%, the 10-year Treasury yield did not change much. In fact, 10-year Treasury yield was down 0.28% and 0.45% during periods B and C, respectively.
This suggests that interest rate was not what drove the junk bond yields up but rather a fear of credit default. Even in period A, the 10-year Treasury rose only 0.67%.
The stock market had a difficult start to this year, but equities have been firming up. Investors are taking advantage of the oversold conditions by adding equity exposure to their portfolios.
However, the junk bond yields have been increasing for the past nine months and recently rose in excess of 3.5%.
This phenomenon happened only two other times in the past two decades, which were both followed by recessions and 40%+ equity sell-off.
Although the current rally seems to suggest the bottom is in, I do not recommend adding to equities at this point as there may be a substantially large sell-off this year; possibly greater than 20%.
Subscribe to Systems & Forecasts here…
More from MoneyShow.com:
Stack: The Benefits of a Bear Fund