Bristol-Myers Catches a Cold
12/11/2012 1:45 pm EST
Focus: STOCKS
There are better ways to profit in the drug space right now, writes MoneyShow's Jim Jubak, also of Jubak's Picks.
On Friday, December 7, I announced that I would be selling Bristol-Myers Squibb (BMY) out of my Jubak's Picks portfolio.
This year was never supposed to be a great year for Bristol-Myers, as generic competition ate further into sales of the company's big drug, Plavix. In the third quarter, the company reported a 43% year-to-year drop in US sales, due largely to a 96% year-to-year drop in sales of Plavix.
In other words, 2012 was supposed to be a transition year. Sales were still likely to drop in 2013 from 2012 levels—by about 5%, Standard & Poor's projects—but in 2013 the company was supposed to see a boost from drugs in its pipeline coming to market.
So the question for investors now is how much progress is that pipeline showing? And there, the picture has been mixed.
New anti-coagulant drug Eliquis, owned jointly with Pfizer (PFE), got a good review from European regulators that suggests a favorable outcome when the FDA rules on the drug again, in March or earlier.
The market for anti-coagulants is about $10 billion, so this could be a big drug, although it will compete with other new drugs and warfarin, an old warhorse that continues to show surprising strength. (In June 2012, the FDA refused to approve the drug and issued a complete response letter, which replaced the agency's non-approval letter under new regulations.)
But other news from the pipeline hasn't been quite so good. In August, the company reported negative data on its hepatitis C drug, BMS-986094, which has raised uncertainty about the strength of the company's hepatitis pipeline.
The launch of Bydureon for type-2 diabetes, a drug that Bristol-Myers acquired with its purchase of Amylin, has been relatively weak. Early indications are that it may be gaining market share mostly at the cost of an older Amylin diabetes drug, Byetta. And in July, the company reported disappointing trial results for a cancer drug, Brivanib.
It's always tough to judge the quality of a pipeline, but I think there are better ones in the industry at a better price. Bristol-Myers current trades at a PEG (P/E to Growth rate) ratio of 2.22.
I added the stock to Jubak's Picks at a price of $32.83 on August 3. The stock closed Friday, December 4 at $32.56.
The shares carry a dividend yield of 4.27%. The next dividend of 35 cents a share is payable to shareholders of record on January 4, 2013.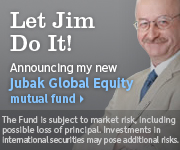 Full disclosure: I don't own shares of any of the companies mentioned in this post in my personal portfolio. The mutual fund I manage, Jubak Global Equity Fund, may or may not now own positions in any stock mentioned in this post. The fund did not own shares of Bristol-Myers Squibb as of the end of September. For a full list of the stocks in the fund as of the end of September, see the fund's portfolio here.