While aluminum demand is rising for several reasons, the market literally has tons of surplus right now. But the door is wide open for aluminum's potential replacement, writes MoneyShow's Jim Jubak, also of Jubak's Picks.
Alcoa (AA) kicked off the first-quarter earnings season Tuesday by reporting earnings of 11 cents a share (excluding one-time items), up from 9 cents a share in the first quarter of 2012, and above the 8 cents a share projected by analysts.
I don't see anything in Alcoa's numbers to make me want to buy the stock. But the aluminum maker's results do say buy Toray Industries (3402.JP in Tokyo or a very lightly traded TRYIY in New York). Here's why.
Alcoa reported strong growth in its engineered products business, which sells to the aerospace and automotive industries. The auto industry is on track to consume 4% more aluminum this year, as the average car produced in North America adds 14 pounds of aluminum from last year's level to reduce weight and improve gas mileage.
In aerospace, both Boeing (BA) and Airbus are working on huge backlogs. Boeing completed its final certification test for the batteries in the 787 on April 5. Analysts are expecting the US Federal Aviation Administration to give the go ahead on deliveries of the 787 within weeks. Order backlogs have reached 4,948 planes at Airbus (up from 4,400 a year ago) and 4,450 at Boeing (up from 4,000).
So with that potential, why am I not running out to buy these shares? (The market isn't falling all over itself either, with the shares up just around 0.5% as of yesterday afternoon.)
Because while Alcoa beat analyst estimates on earnings, the company fell significantly short on revenue. Sales actually fell to $5.83 billion for the quarter, from $6.01 billion in the first quarter of 2012. Wall Street had been expected revenue of $5.88 billion. (The company reduced costs by $247 million from the first quarter of 2012, if you're wondering where the earnings surprise came from.)
The problem, as it is for so many commodities right now, is that supply exceeds demand. Alcoa projects that the global aluminum market will be in surplus by 155,000 metric tons in 2013.
That's an improvement from the company's forecast back in January of a 535,000-ton surplus. But the reduction comes from Chinese companies that have taken capacity out of production in response to low aluminum prices, and that have the ability to put that capacity back into production as soon as prices improve.
So it's not just the forecast surplus that hangs over the aluminum market, but the extra capacity that can come back into production on any increase in price. (Alcoa continues to forecast a 7% increase in aluminum demand in 2013.)
I'd rather go with shares of a company that will profit from the positive trends in the aerospace and automotive industries that Alcoa has identified...but that isn't facing the same market surplus problem.
Which brings me to Japan's Toray Industries. The company is the largest producer of carbon fiber-10 times stronger and 75% lighter than steel-in the world. Back in September 2012, Toray was projecting that its sales of carbon fiber would grow 29% in the fiscal year that ended on March 31. (Toray Industries is expected to report fiscal 2013 earnings on May 10.)
The company has projected that sales of carbon fiber to the aerospace industry will increase fourfold by 2020, as both Boeing and Airbus use more fiber to reduce aircraft weight and increase fuel efficiency. New car prototypes shown in Europe in the fall of 2012, designed to meet new standards for mileage and emissions, contain about 30% carbon fiber by vehicle weight.
Like the shares of most Japanese exporters, those of Toray Industries have been on a tear since November, when it looked like Abe-nomics would triumph in Japan's December elections. As the yen has plunged, shares of Toray have soared, with a 50% gain from November 14 to April 8.
If we get a pause in the decline of the yen and in the Japanese market over the next couple of weeks-and I think we will, on profit taking and worries that the yen has fallen too far too fast-then I'd suggest using that window to pick up shares of Toray Industries on the Tokyo market. (Volumes on the US market are just too low for my comfort.)
I can see the stock quickly tacking on another 20% gain from here, once the yen breaks through 100 to the dollar and moves toward 105 or so.
Note that a falling yen would result in a US investor seeing 10% depreciation in the dollar value of an investment in Toray if the yen moved from 100 to 110. But I think that currency move would be leveraged by Toray's income statement into a 20% or better gain in the share price.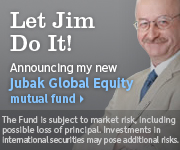 Full disclosure: I don't own shares of any of the companies mentioned in this post in my personal portfolio. When in 2010 I started the mutual fund I manage, Jubak Global Equity Fund, I liquidated all my individual stock holdings and put the money into the fund. The fund may or may not now own positions in any stock mentioned in this post. The fund did own shares of Toray Industries as of the end of December. For a full list of the stocks in the fund as of the end of December, see the fund's portfolio here.