Trading Bearish Sentiment on BP
06/08/2010 12:01 am EST
Focus: OPTIONS
With the Goldman Sachs (NYSE: GS) downgrade of BP plc (NYSE: BP) Monday morning, it appears that the long-term sentiment on the oil giant's fortunes continue to sour.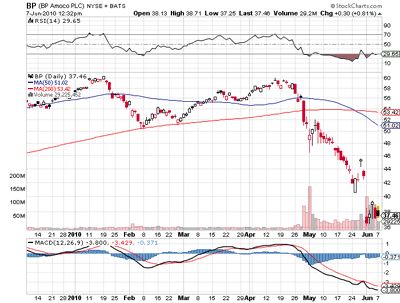 Click to Enlarge
For traders who want to position for BP's prospects and costs from the Gulf disaster to get worse before they get better, selling an out-of-the-money bear call spread may offer an attractive risk-reward opportunity. This July strategy aims for a potential 35% return on risk to options expiration in 39 days, and has a breakeven of $41.30.
BP Credit Spread Trade Details
BP has climbed roughly 50 cents to $37.66 during recent trading.
(Be sure to adjust this option trading idea based on current pricing!)
Credit Spread/Bear Call Spread:
Sell the July 40 call
Buy the July 45 call
Net credit of $1.30 ($130 per lot) or better per spread
Profit/Loss Details
Maximum Profit: $1.30 (the credit collected). This excludes
commissions, though exit commissions will not be required if both calls expire worthless.
Maximum Risk: $3.70 (the difference between strikes minus the credit collected). Reward on risk is approximately 35%.
Breakeven: $41.30 (the strike of the lower call plus the premium collected).
By the Staff at ONN.tv
ONN.tv experts Jud Pyle and Kevin Cook provide premium trading alerts that investors can access and follow with commentary and strategy lessons. Sign up for this free service and start trading with the pros!