Option Trading Volume Rockets Up in May
06/09/2010 9:36 am EST
Focus: OPTIONS
While regulators are still scratching their heads over May's volatile markets, at least one segment of the Street is reveling in it. In spite of, or perhaps due to the May 6 "flash crash," options trading volume set a new record in May. According to figures published by The Options Clearing Corporation, 408,432,157 options contracts were traded in May, far surpassing the next two closest months for volume in the past year (March and April, respectively).
Below is a chart of the last 12 months of options volume: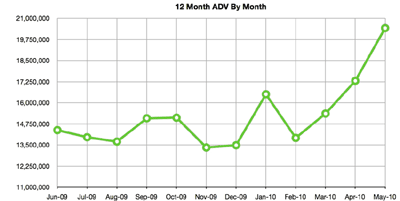 Click to Enlarge
The Wall Street Journal reported that the climb in broad market volatility enabled the Chicago Board Options Exchange to extend its lead over rival markets in a month that saw more options contracts change hands than at the height of the credit crisis in late 2008.
May 6 was the busiest single trading day in history for the CBOE, with a record 10.6 million contracts traded during the dramatic session.
Heavy trading in the CBOE's proprietary index options—key franchises underpinning the company's planned IPO— lifted its share of total US options activity to 32.4% in May. That hefty percentage came as investors traded more than 33 million index-linked contracts during the month.
May options volume hit two high marks: The "flash crash" on May 6, and again on May 20, the day before expiration.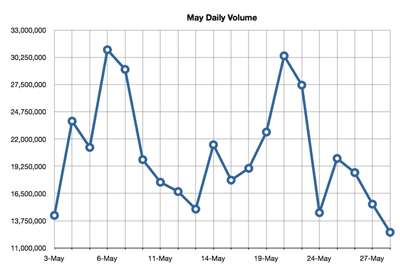 Click to Enlarge
As the Financial Times reported, "Exploding volatility has driven traders to [CBOE's] proprietary stock index options, such as the Volatility Index, or VIX, often referred to as "Wall Street's fear gauge."
Even excluding the May 6 anomaly, 2010 appears to be well on its way to setting another record for options volume.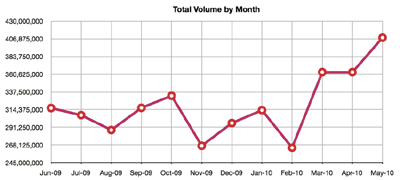 Click to Enlarge
By the Staff at TheOptionsInsider.com