Option Trading Idea for Toyota Motor Corp. (TM)
06/15/2010 12:01 am EST
Focus: OPTIONS
While BP plc (BP) struggles with what will likely be the biggest environmental disaster—and corporate battle—in history, Toyota Motor Corp. (NYSE:TM) seems to be handling its public obligations and challenges fairly well.
Their day in court may prove that the company was less at fault than many had predicted. Whatever the outcome of civil and criminal proceedings, TM will survive and probably continue making excellent automobiles that are in high demand by consumers.
For investors who believe in the long-term success of TM, this January 2011 bull call spread may offer an attractive way to play the long side with less capital and less risk as the stock builds a base above $70.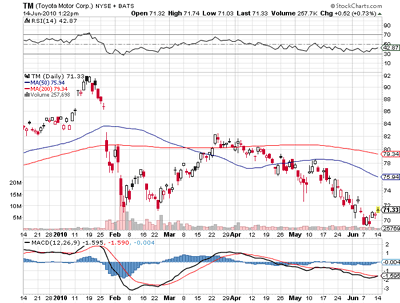 Click to Enlarge
TM Debit Spread Trade Detail
TM has gained more than 1% to $71.67 during midday trading on Monday (be sure to adjust below pricing model for current prices).
Debit Spread/Bull Call Spread:
Buy the January 2011 70 call
Sell the January 2011 80 call
Net debit of $4.40 or less ($440 per lot)
Profit/Loss Details (at time of writing – be sure to adjust for current prices):
- Maximum Risk: $4.40 (the debit paid at the time of the trade) plus commissions
- Maximum Potential Profit: $5.60 (the difference between strike prices minus the debit). Return on risk is roughly 127%
- Breakeven: $74.40 (the strike price of the purchased call plus the debit paid)
By the Staff at ONN.tv
Find more option trading ideas at ONN.tv