Option Trader Collects Premium on Wireless Company
07/20/2010 12:01 am EST
Focus: OPTIONS
LEAP Wireless International Inc.
(
LEAP
) shares could experience limited downside during the near term, according to one investor who traded a hefty number of puts during morning trading on Monday. The August 10-strike puts were active early during the day's session and most of the action looks moderately bullish.
Between 11:08 am ET and 11:09 am ET, nearly 9,000 out-of-the-money (OTM) front-month August 10 puts changed hands for 15 cents per contract, which was lower than the bid price at the time of the trade. These OTM puts are home to current open interest of 249 contracts. It looks like an investor expressed moderate bullishness on LEAP and collected a total of roughly $135,000 to open a short put position that calls for no more than 19% of downside during the next month.
If LEAP shares are still trading higher than the strike price, the investor keeps the entire credit collected (this is the most the put seller can make on this trade). The investor who sold these puts begins to lose money once LEAP shares drop below $9.85 and will continue to incur losses until the stock reaches zero (the most the investor can lose in the unlikely event that the stock is trading at zero at expiration is $9.85 per contract).
Shares of LEAP dropped to a 52-week low of $11.96 on July 6 and are currently trading around 2% higher. Shares of the wireless communications company dropped 32 cents, or more than 2%, to $12.17 during morning trading on Monday. LEAP did not announce any news on Monday to account for the drop in stock. The company is due to announce earnings figures on August 3 after the market closes and analysts estimate an earnings loss of 22 cents per share.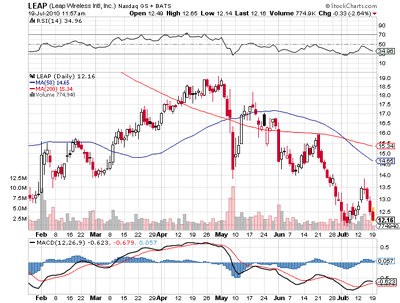 Click to Enlarge
By Karla Yeh, contributor, ONN.tv