What Election Day Means for Option Traders
11/02/2010 12:01 am EST
Focus: OPTIONS
Today is Election Day here in the United States. This is known as the midterm election between Presidential election cycles. The entire House of Representatives and a third of the Senate comes up for election. Traditionally, the party of the President loses seats in both houses of Congress in the first midterm election of a new President's term. Two recent momentum-switching midterm elections were gains by the Republicans in 1994 and Democrats in 2006. Big swings in voting are likely to be the case in the coming 2010 election as well.

Generally, we as option traders prefer a smaller, more efficient government and lower taxes. Especially when it comes to capital gains on trading and punitive taxes on short-term day and swing traders. The Republicans tend to stand for these principles more than the Democrats, but unfortunately, we've seen both parties grow the federal government greatly over the past ten years. The weak dollar we now see is a byproduct of the fiscal mismanagement by both parties.

So what do the numbers show? Using Professor Larry Sabato's ElectionProjection.com Web site, you can see below that there's been a big move in anticipated gains by Republicans over the past month and a half.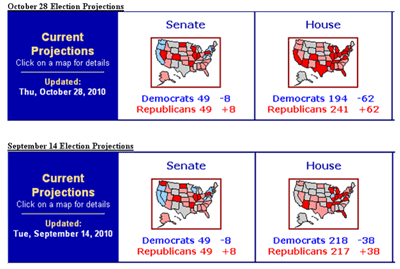 Click to Enlarge
The bottom line here is that the numbers indicate the Republicans should take control of the House with a fairly comfortable margin. The Senate will likely be around a 50/50 split—this will make a few key votes very influential in specific situations. Lest you think that this Web site is biased in one direction or another, take a look at a projected electoral simulation from The New York Times' Web site, which shows a similar big gain in the House by Republicans:

Click to Enlarge
Generally, the markets like a "mixed" Congress/Presidential mix in terms of political party control. So this is one reason we've seen some strength in the stock markets recently. Also, historically, the fourth quarter of a midterm election year and the following two quarters are the most bullish times for the market. So based on historical data, the market is in the midst of a bullish period that could last until June 2011. Definitely something to keep in mind for your investing and trading in the months ahead.
By Price Headley of BigTrends.com