Bullish Call Spread Example in VLO
05/04/2011 6:00 am EST
Focus: OPTIONS
Earnings from leading energy companies are in focus now, and one option trader bet on post-earnings upside potential for Valero Energy (VLO) by constructing this bullish call spread.
Valero Energy (VLO) almost doubled between September and mid-February as better demand drove refining margins wider, but it has been consolidating since then and has moved below its 50-day moving average. Support just below $27 is a very important area and marks a previous low back in March.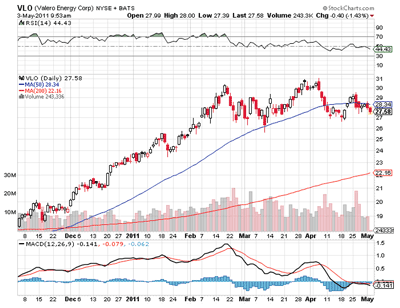 Click to Enlarge
During that time, the stock has been making incrementally higher lows, which some chart analysts may consider evidence that it remains in a bullish uptrend. The last earnings report on April 26 was hurt by one-time items, but revenue crushed forecasts and management projected a strong year.
The stock closed recently around $28, and despite its recent consolidation, it is up more than 8% since the beginning of the year and has risen 55% from its 52-week low of $15.49.
However, on Monday, May 2, one trader bet that VLO has further room to run to the upside. The options trader purchased 10,000 VLO September 31 calls for $1.53 and sold an equal number of VLO September 34 calls for $0.78, resulting in a net cost of $0.75.
This bullish call spread will earn a maximum profit of 300% if the Texas-based oil refiner rallies to at least $34 by expiration.
Calls accounted for a bullish 91% of the volume in yesterday's session, according to optionMONSTER's Heat Seeker system.
By Mike Yamamoto of OptionMONSTER.com