3 Double-Your-Money Option Trades
08/02/2011 8:00 am EST
Focus: OPTIONS
A trio of options experts was asked about their favorite opportunity for the current environment, and these were their best trade ideas, each one with potential to return 100% by the end of 2011.
It has been a volatile summer, as investors have been faced with debt woes in the US and abroad. And now, we're in the midst of corporate earnings season, which always has the potential to rock the boat.
But if options trading is your game, volatility is hardly a negative. On the contrary, it can turn an average options trade into a real game changer.
We asked our options experts to give us their top trading ideas. Each of these trades was selected because it has the potential to double your money by the end of the year.
Trade #1: AOL (AOL) Put Options
From John Jagerson, options coach, Turbo Trader Live
AOL (AOL) is a stock traders love to hate, because the company struggles with endless management overhauls, soft advertising sales, and a product strategy that is focused on untested ideas like hyper-local blogging.
The stock has clearly taken a beating, and the last two earnings reports have been none-too-kind to shareholders. We seriously doubt this company has figured it out yet, and its upcoming earnings report in August should be accompanied by another selling frenzy.
From a technical perspective, a rising wedge pattern has just recently broken out and could reach one of two price targets by the end of August.

Click to Enlarge
If most of the bad news is already priced into the stock, momentum would result in a moderate drop to $16. If the news just keeps getting worse, which seems likely, the stock could lose up to 35% and drop to $12 before the end of the third quarter.
We recommend buying to open the AOL Oct 17 puts for 60 cents or less. This provides plenty of time for the move without giving up too much in time value if the current channel extends a little further. Reaching our first objective would be a money-doubling options trade, but the second objective is a real game changer.
NEXT: 2 More Double-Your-Money Option Trades
|pagebreak|
Trade #2: Aetna (AET) Call Options
From Sam Collins, chief technical analyst, InvestorPlace.com
Aetna (AET), a leading provider of health care, disability, and long-term care insurance, is expected to earn $4.30 per share in 2011 versus $3.68 in 2010, and more than $4.65 per share in 2012. Pricing discipline, cost-control initiatives, and diversification, including increased penetration of the Medicaid market and international expansion, all contribute to a higher earnings estimate and stock price.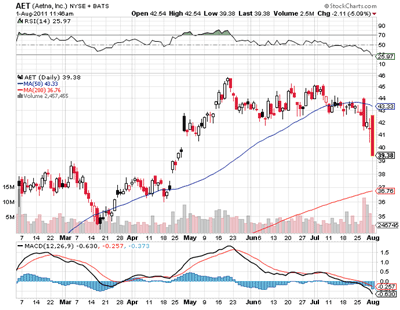 Click to Enlarge
Fundamental analysts target the stock at $51 over the next 12 months. But AET has been trading in a narrow range of $42.50-$45 since May, when it topped out at $45.63. An agreement to increase the US debt ceiling should benefit shareholders and run the stock to at least its May high and possibly higher.
Buy the AET Sept 44 calls at $1.50 or less with a target of $3.50.
Trade #3: AvalonBay Communities (AVB) Call Options
From Chris Johnson and Jon Lewis, editors, The Winning Edge
The real estate sector remains one of the hotter performers through this summer as a powerful combination of pessimistic investor sentiment and positive technicals are combining for a classic "wall of worry" bullish scenario for the group. As of last week, 31% of the stocks that comprise the iShares Dow Jones US Real Estate Fund (IYR) were trading at new one-year highs, as compared with only 13% of S&P 500 companies, yet no one is talking about the bullish real estate trade.
Among the companies pressing to new highs is AvalonBay Communities (AVB), an operator of multifamily communities in the US. Short sellers have been hammering this stock lately, despite a history of better-than-expected earnings results and a decidedly positive trend in the stock's price.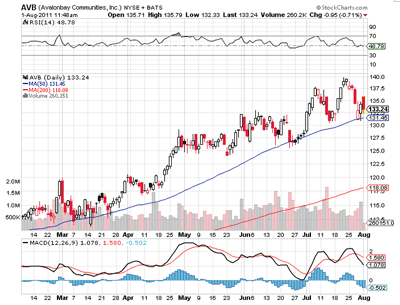 Click to Enlarge
The company announced earnings after the close on July 28, offering potential for another catalyst to shake the shorts out of this stock. We think a short-covering rally is poised to move this stock higher.
The AVB Sept 140 calls, currently trading around $4.50, could be a great money-doubling options trade to take advantage of the next wave of buying as the stock continues its trek higher. The price of these calls will almost surely fluctuate with earnings, but we think this is a good trade whether earnings surprise or disappoint.
By the Staff at OptionsZone.com
Learn more about each of these options experts at InvestorPlace.com