Option Traders Stick to Puts on 3M
01/05/2012 7:00 am EST
Focus: OPTIONS
Not even the acquisition of a top rival could turn option traders bullish on 3M Company (MMM). Put activity has remained notably high even though the stock gained following the announcement.
Early Tuesday morning, Dow darling 3M Company (MMM) announced it would buy Avery Dennison's (AVY) office and consumer products arm for $550 million, with the deal slated for completion in the latter half of 2012.
While the purchase is forecast to cut into MMM's earnings by approximately six cents per share in fiscal 2012, the acquisition is expected to bring in three cents per share over the same 12 months, excluding costs related to the purchase.
The deal comes on the heels of disappointing earnings reports from both MMM and AVY in the most recent quarter. With the purchase, MMM plans to expand further into the world of office supplies, while AVY will use the proceeds for debt reduction and share repurchasing, among other fiscal measures.
Ahead of the announcement, options players displayed a rather bearish bias toward MMM. For starters, the stock's Schaeffer's put/call open interest ratio (SOIR) stands at 1.07. This ratio ranks in the 72nd percentile of its annual range, showing that short-term speculators have been more pessimistically skewed toward the stock only 28% of the time in the last year.
Further, the equity's 50-day International Securities Exchange (ISE), Chicago Board Options Exchange (CBOE), and NASDAQ put/call volume ratio of 0.87 ranks higher than 78% of other such readings taken over the past year, indicating that puts have been bought to open over calls at an accelerated clip in recent months.
Here is a recent daily chart:

Click to Enlarge
Wall Street was pleased with MMM's expansion efforts, with the stock trading 2.6% higher in that day's session, cutting its 52-week deficit in half. In fact, with this push, the equity is trading above its 30-week moving average, an area not visited on a closing basis since July 2011.
By comparison, AVY added 3.8% that same day, but the acquisition still lifted the stock higher, albeit softly.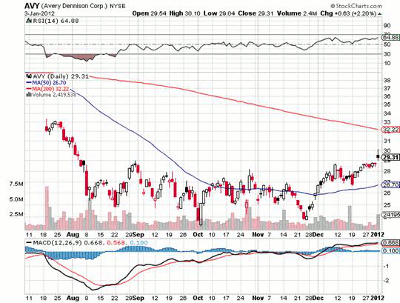 Click to Enlarge
By Karee Venema, contributor, Schaeffer's Research