Call Buyers Dig This Mining Stock
01/30/2012 11:25 am EST
Focus: OPTIONS
Mining stock Coeur d'Alene Mines (CDE) has caught the attention of analysts and option traders recently. Both are now buying aggressively, expecting the shares to continue their impressive upside run.
Along with sector peer Freeport-McMoRan Copper & Gold (FCX), Coeur d'Alene Mines (CDE) has seen a flurry of bullish options activity recently. Approximately 6,500 calls have changed hands so far, which is six times above the norm.
The bulk of the action has centered around the out-of-the-money February 31 strike, where close to 4,200 calls have been traded, the majority of them at the ask price, pointing to buyer-driven volume.
This option is currently home to open interest of just 294 contracts, making it safe to say that new positions are being initiated here. By buying these calls to open, speculators are expecting CDE to climb north of the $31 level by the time front-month options expire.
See related: Trade Options Expiration Like the Pros
This favoritism toward calls over puts is business as usual for CDE. Data from the International Securities Exchange (ISE), Chicago Board Options Exchange (CBOE), and NASDAQ OMX PHLX (PHLX) shows a ten-day call/put volume ratio of 6.14, confirming that traders have bought to open more than six calls for every put during the past two weeks. However, this ratio registers in the 49th percentile of its annual range, meaning that options players have been purchasing bullish bets over bearish at a slightly slower-than-usual clip.
Meanwhile, more than half of the analysts following the mining security appear to share this upbeat sentiment toward CDE. According to Zacks, three "strong buys" and one "buy" rating have been doled out, compared to three "holds" and not a single "sell."
Examining CDE's technical performance, the equity has gained over 20% year-to-date and has outperformed the broader S&P 500 Index (SPX) by more than 13% during the past month.
On the charts, the stock is poised to finish back atop its 50-week moving average, which had served as resistance since mid-December.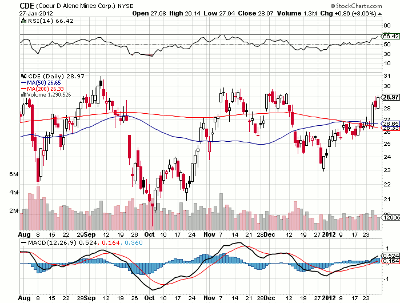 Click to Enlarge
By Terri Stridsberg of Schaeffer's Research