This May Index Option Trade Looks Hot
02/10/2012 7:00 am EST
Focus: OPTIONS
Serge Berger, contributor to Investorplace.com and head trader and strategist at The Steady Trader, explains how an option trade with mid-range expiration looks to be a high-probability play in this market environment.
The compression in volatility so far in 2012 has been well-documented, and is equally intuitive if we note the vertical leaps that equities have made.
See the narrowing trading range in the CBOE Volatility Index (VIX) on the daily chart below; should the VIX break back above the 20 mark, things may get more interesting again.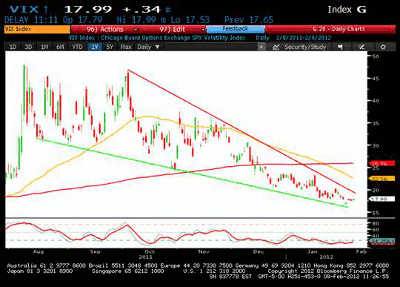 Click to Enlarge
At the same time, small-cap stocks, as measured by the iShares Russell 2000 Index Fund (IWM) are up around 11% year-to-date, more or less in a straight shot. And, in terms of its slope, it has gone vertical recently.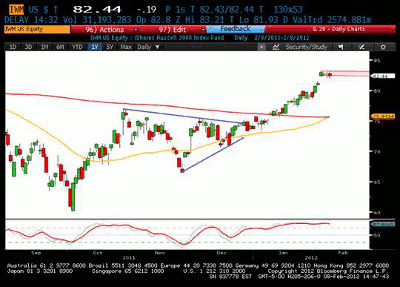 Click to Enlarge
Overbought tapes like these can remain so for an extended period of time. Yet with volatility at current levels when just a few weeks ago sentiment was overly pessimistic, it seems overdone.
Both the beauty and the curse of using options as a trading vehicle is that, depending on the strategy used, one has to get both time and price right in order to end up with respectable profits. The current situation, specifically in the Russell 2000, however, is setting up such that an eventual increase in volatility coupled with a price correction should reward put buyers well.
I see an initial long position in May IWM puts (slightly out of the money) as a good risk/reward set-up, both either as a portfolio hedge or an outright position. (With IWM trading around the mid-$82 range, puts at the $82 strike and lower are, at the time of this writing, slightly out of the money.)
By Serge Berger, contributor to Investorplace.com, head trader and strategist, The Steady Trader