A Key Distinction Option Traders Miss
03/02/2013 8:00 am EST
Focus: OPTIONS
When defining the time frame and expected price movement for a trade, option traders actually make a distinction between an option trade and an option position, explains Mark Sebastian.
I will lay all talk of the Greek Tragedy aside for the most part today. We'll either run down a bit on Friday or gain a nice little boost, but there seems a bit of a buildup in the air. We have talked about the bid-up juice in the volatility products enough (although a bit of a decline today) over the last couple of weeks, and it made for some nice trades.
What I would like to discuss is the time lines on these trades. What makes a trade, and what makes a position?
I was recently watching the price action in some of the homebuilders. I think it was Hovnanian Enterprises (HOV) that reported a bit better than expected, and there was short burst of activity for the group. At this point, Beazer Homes (BZH) was up the most. I know the homebuilders are just scrapping off the bottom, so a trade that looked interesting was selling the BZH APR $3.00 straddles for 70 cents.
I was hoping for about 74% or so volatility on it. BZH is pretty range bound, and I thought that level was not too bad, as long as it was short-term enough. To me, that is a trade. It's relatively short term in nature and I'm looking for a very quick strike of maybe .20 or so, if I can get my entry level. As far as current market conditions, BZH has not traded at $2.30 for months, so the real risk I think is to the upside.
I am not thinking this short straddle is a long-term play. Most likely, Thursday was the only day for the April cycle where the pricing got remotely interesting.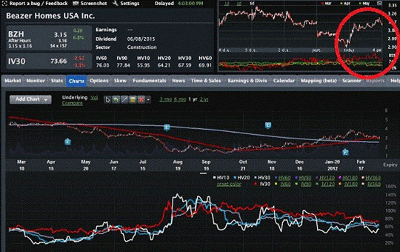 Click to Enlarge
On the other hand, for a position trade, my time horizon is a bit different. On the flip side, I also am looking at Fusion-io (FIO). I actually heard it on the Option Insider Radio last week and looked up the name. The volatility numbers looked very interesting. I don't really care about the fundamental story, but the company sells stuff to Facebook and Apple (AAPL). That is probably enough of a story for most.
The 30-day historical volatility (HV) in FIO has not spent one moment since it's IPO below 70% on a 30-day basis. I see June implied volatility (IV) trading for 60%. When I look to take a position, I am thinking this is a long-term trade in order to make it work out.
April might work, but the June cycle will catch the earnings for sure, which puts a bit of a floor under the options. Here, I am thinking a month or two holding period, if necessary.

Click to Enlarge
Most traders new to options would be well served if they thought of the trading time line prior to entry. That way a plan can take shape, and with the various bailouts and adjustments set well ahead of time, some of the hard thinking on exit strategy is pre-determined.
As we move through this week and big possible news next week, are your positions ready for it?
See also: Big Events Option Traders Can Bank on
By Mark Sebastian of OptionPit.com