4 Option Trades That Deliver the Goods
04/03/2012 8:00 am EST
Focus: OPTIONS
Technical indicators suggest more upside potential ahead for United Parcel Service (UPS), and Greg Harmon of Dragonfly Capital offers up four option ideas designed to capitalize on such a move.
United Parcel Service (UPS) is building a bull flag after a run higher out of consolidation near $77. It has a relative strength index (RSI) that is bullish and currently pointing higher, and the Moving Average Convergence Divergence (MACD) indicator is about to avert a bearish cross to negative with a glancing kiss. These support more upside potential ahead.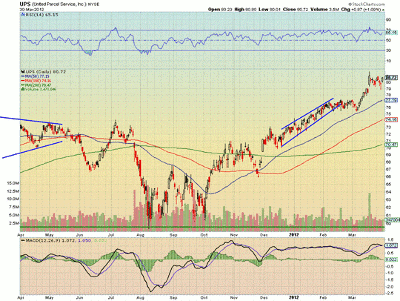 Click to Enlarge
The measured move higher out of the flag takes UPS to $86.50, and there is no resistance along the way. The test lower last Thursday filled the open gap to support at $79 with further support lower at $77.25 and $76.
Here are several trading ideas. Be sure to check current pricing to ensure the ideas are still valid.
Trade Idea 1: Buy the stock on a move above $81 with a $1.50 trailing stop
Trade Idea 2: Buy the April 82.5 calls on a move over $81, offered late Friday at 34 cents
Trade Idea 3: Sell the April 77.5 puts on a move over $81, bid at 18 cents late Friday
Trade Idea 4: Buy the April 77.5/82.5 bull risk reversal on a move over $81, offered at 16 cents recently
Trade Idea 5: Buy the May 77.5/82.5 bull risk reversal on a move over $81, offered virtually "free" recently
By Greg Harmon of Dragonfly Capital