5 Option Ideas for Fast-Rising Dillards
04/10/2012 7:00 am EST
Focus: OPTIONS
After a strong move higher, popular retailer Dillards (DDS) has no resistance overhead, writes Greg Harmon, listing five potential option set-ups to capitalize on additional upside movement.
Dillards (DDS) has been consolidating after a strong move higher from $49 in February in a bull flag topping at $64 and with a lower limit of $62. It has a bullish Relative Strength Index (RSI) and a Moving Average Convergence Divergence (MACD) indicator that is negative, but improving. Both would support a move higher.
There is no overhead resistance on a breakout, but it would create a target on a measured move to $78. Short interest is very high in this name at over 15% and could facilitate a short squeeze. Support is found lower at $60 and $55.50, followed by $52.70.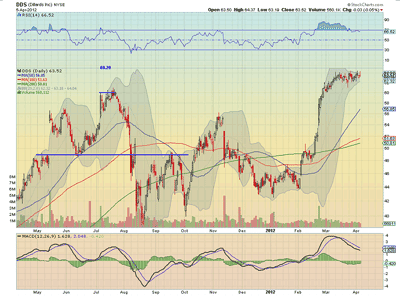 Click to Enlarge
Trade Idea 1: Buy the stock on a move over $64.20 with a $1 trailing stop
Trade Idea 2: Buy the May 65 calls on the same $64.20 trigger. These were offered at around $2.50 recently
Trade Idea 3: Sell the May 60 puts on the same $64.20 trigger. These were bid at around $1.70 recently
Trade Idea 4: Buy the May $65/$60 calls on a bullish risk reversal on the same $64.20 trigger. These were offered at around 80 cents recently
Trade Idea 5: Sell the May $60/$55 put spread on the same $64.20 trigger. These were bid at around $1.00 recently
Trade Idea 6: Buy the May $65 calls, selling the May $60/$55 put spread on the same $64.20 trigger. These were offered at $1.50 recently
By Greg Harmon of Dragonfly Capital