2 Markets Where Big Volume Rules
04/12/2012 7:00 am EST
Focus: OPTIONS
Moby Waller of BigTrends.com explains that while stock trading volume is stagnant, the flow of capital into options and ETFs is steadily growing with even greater volume expected down the road.
We've previously discussed that the myriad of uses available in option trading has contributed to the ongoing growth and acceptance by more and more traders and investors. Similarly, exchange traded funds (ETFs) continue to show growth because of advantages they offer in terms of liquidity, the vast selection of sectors/assets, and ease of use.
On the heels of this, we have data from Credit Suisse that says average daily equity volume in March  was at the lowest level since December 2007. That was during the same month that the market celebrated the three-year anniversary of the infamous March 2009 panic bottom.
Credit Suisse attributes the drop in stock volume to the growing popularity of options and futures, a drop in high-frequency trading, and fewer stock splits/float. Others are pointing to recent bear markets which have damaged the psyche of retail investors. Other culprits named include restrictive financial regulations and the financial industry's failures. The full article on this can be found here.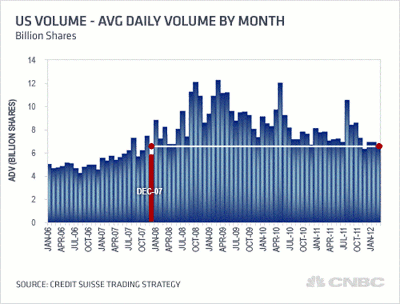 Click to Enlarge
Meanwhile, the Chicago Board Options Exchange (CBOE) reported that March was a busy month with record activity on its futures exchange. Year-over-year (YOY) cumulative options volume was even versus 2011, and overall first-quarter average daily volume saw a 13% increase from the fourth quarter of last year. The market's recent bullish run may have something to do with this.
ETF option volume on the CBOE grew 3% in March YOY and 7% versus February 2012. The most actively traded index or ETF options on the CBOE were the S&P 500 Index (SPX), Spyder Trust (SPY), CBOE Volatility Index (VIX), iShares Russell 2000 Index Fund (IWM), and the PowerShares QQQ (QQQ), which tracks the Nasdaq 100 Index.
See also: The 2 Newest SPX Option Products
The most actively traded equities were Apple (AAPL), Bank of America (BAC), Citigroup (C), JPMorgan Chase (JPM), and Amazon.com (AMZN). The CBOE futures trading gains were helped by record volume in the VIX Index futures and options (see full article here).
From covered calls to downside protection to directional trades to income-generating strategies, the multitude and variety of options continues to reach more and more active investors and traders. Not to mention the great leverage you can receive on a small cash outlay in limited-risk option trades.
In addition, more and more people are becoming aware that they can trade a variety of  option strategies in self-directed brokerage IRA accounts. We anticipate that the growth of options and ETFs in general will continue.
By Moby Waller of BigTrends.com