Auto Stock with Revved-Up Call Buying
05/03/2012 7:00 am EST
Focus: OPTIONS
With earnings upcoming for electric car maker Tesla Motors (TSLA), a heavy spike in call buying is likely due to hedging from fearful short sellers, writes Karee Venema of Schaeffer's Research.
Tesla Motors, Inc. (TSLA) recently dropped below its 50-day moving average, which may now be acting as resistance. Overall, the shares have gained about 20% year-over-year.
What's more, the security has added a solid 16% in 2012. After tagging an all-time high of $39.95 on March 27, the stock pulled back to its 80-day moving average, a trend line that has once again emerged as a foothold.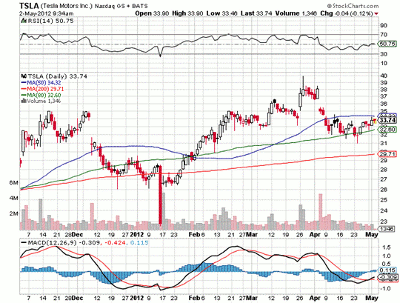 Click to Enlarge
It appears that call players are convinced of TSLA's technical durability, as evidenced by data from the International Securities Exchange (ISE), Chicago Board Options Exchange (CBOE), and NASDAQ OMX PHLX (PHLX). Over the course of the past ten trading sessions, speculators have bought to open 11 calls for every put. This ratio ranks higher than 98% of similar readings taken in the past year, suggesting that bullish bets have been scooped up over bearish ones at a near-annual-high clip in recent weeks.
This trend toward TSLA calls is echoed by the stock's Schaeffer's put/call open interest ratio (SOIR) of 0.66. This ratio ranks in the 37th percentile of its annual range, implying that short-term speculators are more call-heavy than usual toward the security.
Heading outside of the options arena, sentiment toward TSLA is a bit more sour. Despite short sellers reducing their bearish exposure by 6.1% in the last two reporting periods, short interest still accounts for a mind-boggling 34.3% of the stock's available float. It would take nearly three weeks to cover these shorted shares at TSLA's average daily trading volume.
Coupling TSLA's recent bounce from support with this staggering short-to-float ratio, this recent jump in call volume may simply be the result of short sellers picking up hedges on their bearish bets.
The electric car concern is scheduled to reveal its first-quarter earnings results after the closing bell on Wednesday, May 9. The company has beaten bottom-line expectations in two of its four previous quarterly reports. With an inconsistent history of results, TSLA shorts could be covering their bases ahead of next week's announcement.
See also: 3 High-Risk Shorts from a Hot Sector
By Karee Venema, contributor, Schaeffer's Research