Join Alan Ellman LIVE at The MoneyShow Las Vegas!
Join Alan Ellman LIVE at The MoneyShow Las Vegas!
Trading Options About to Get Cheaper
03/14/2013 8:00 am EST
Focus: OPTIONS
Just as the E-minis democratized futures trading, this new product has the promise of doing the same for options, notes Alan Elllman of TheBlueCollarInvestor.com,
There is a new options product that will start trading on March 18, which has the potential to add great flexibility to our covered call writing strategy. They are called mini options and I'm excited to present this information to you because the product is geared to average retail investors (aka Blue Collar Investors) like us. Like all new products we must take our time to evaluate the efficacy of instituting them into our portfolios but the potential initially seems quite positive to this investor.
What is a Mini Option?
These are contracts that deliver 10 shares of an underlying security, whereas standard contracts deliver 100 shares. They will have the same expiration dates and strike prices as the standard contracts. The International Securities Exchange (ISE) also expects the bid-ask spreads to be the same. We'll see about that. These new products are not superior to their standard counterparts, just smaller with reduced risk and reduced reward.
What will the Commissions Be?
Right now, I would frame this as a big unknown. As of this writing, I haven't received a firm response from the exchanges or brokerages I have contacted. One would hope (expect) that the commissions would be 1/10th of that of the standard contract but there are no guarantees at this time.
What are the Available Underlying Securities and Why Were They Selected?
It appears that the exchanges are requiring underlying stocks and ETFs to have a minimum price of $100 or more and an average daily trading volume of 10,000 shares/day over the past three months. In addition to these requirements, the exchanges surveyed various brokerages to see which tickers tended to trade in odd lots or fewer than 100 shares. For example, according to TD Ameritrade, 77% of executions with AAPL occur in odd lots. Here are the five securities that will be trading mini options as of March 18:
Apple Inc. (AAPL)
Google Inc. (GOOG)
Amazon.com, Inc. (AMZN)
SPDR S&P 500 ETF Trust (SPY)
SPDR Gold ETF (GLD)
Here are a few potential additions in the near future but NOT available initially:
Master Card Inc. (MA)
Visa Inc. (V)
Priceline.com Inc. (PCLN)
Netflix Inc. (NFLX)
Chipotle Mexican Grill Inc. (CMG)
Goldman Sachs Group Inc. (GS)
iShares Barclay's 20+ Year Treasury Bond Fund (TLT)
NEXT PAGE: Potential Pitfalls
|pagebreak|
Sample Portfolio with Under $50,000
I created a hypothetical portfolio assuming a cash balance under $50,000 using the BCI requirement of equal cash allocation and current bid-ask spreads with three weeks remaining until expiration of the March contracts:
Benefit to Blue Collar Investors
Since the average portfolios of retail investors has between $10,00 and $50,000 in assets, the mini options will allow many of us to trade with high-priced underlying securities. For example, to sell a covered call on AAPL, we would currently have to purchase 100 shares at about $500/share or invest $50,000 before we could sell the option. That one trade would create too much risk for most of us and prevent appropriate diversification. With minis, we could purchase just 10 shares for $5,000, sell the mini call, and have plenty of cash left over for additional positions.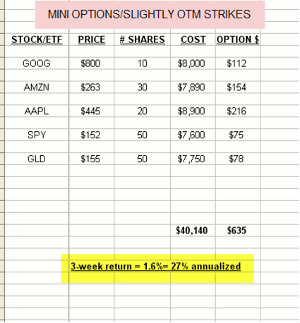 Mini Options: Sample Portfolio
Click to Enlarge
Potential Pitfalls/Why Wait
As I stated at the beginning of this article, I am truly excited about these new products. However, I would not jump in right away for the following reasons:
The commissions involved have not been published by the brokerages. My hope is that they will reflect 1/10 that of standard options but only time will tell.
Since option liquidity plays a major role in bid-ask spreads, this will be another unknown until the minis actually begin trading.
We must familiarize ourselves with the new tickers to make sure we are entering the correct tickers when entering a trade. You're probably sick of hearing me say this but paper-trading a new product first makes good sense to this investor.
We must be sure that the brokerages, market makers, and market vendors are prepared for the March 18 launch. Let's allow others to be the guinea pigs and then we can jump in once the "bugs" are ironed out.
Conclusion
The new mini options appear to be a product that will benefit average retail investors. It will allow us to trade high-priced securities while still properly diversifying as well as allowing for balanced cash allocation. However, it is prudent to wait a bit for the launch of these new products and then re-evaluate their value to us a few months down the road.
By Alan Ellman of TheBlueCollarInvestor.com