Join Alan Ellman LIVE at The MoneyShow Las Vegas!
Join Alan Ellman LIVE at The MoneyShow Las Vegas!
Technical Analysis for Covered Calls
07/24/2013 7:00 am EST
Focus: OPTIONS
A company can be fundamentally sound but technically collapsing, so an understanding of technical analysis can help protect your positions, writes Alan Ellman of TheBlueCollarInvestor.com.
Technical analysis or fundamental analysis—which should we use in the stock selection process for covered call writing? Many sophisticated investors can make an impressive argument for one or the other. I say why not use both? As most of you know, in the BCI methodology we use three types of screens: fundamental analysis, technical analysis, and common sense principles (like avoiding earnings reports).
Most would agree that institutional investors (mutual funds, hedge funds, banks, and insurance companies) have a major impact on the price of our shares. These players love companies that produce strong earnings and revenues. They scrutinize the three major financial statements of these corporations before delving in. In my view, since fundamentals are important to these impact players, it should also be important to us. So our first series of screens are fundamental in nature. Common sense principles are just as critical as the other two screens.
That leaves technical analysis, the subject of this article. If a company is fundamentally sound, why bother? The reason has to do with the myriad of other factors that can impact share price in between financial statement reporting. Global issues, political factors, economic reports, and corporate news to name a few. Technical analysis will alert us to changes in market analysis of a particular equity. A company can be fundamentally sound but technically collapsing.
Enter SodaStream International Ltd. (SODA). This company was previously on the Blue Collar Premium Watch List and once responsible for some pretty terrific returns for many of us. At the end of June, SODA was removed from our "running list" because of a complete technical breakdown. It wasn't fundamental-related because the earnings report is not due out until July 31. It appears that the collapse and subsequent share depreciation was related to corporate news and perhaps some market psychology (fear based on rumors). There was an analyst downgrade and rumors regarding a potential acquisition by Coca Cola. Remember, the fundamentals of this company are still strong. Let's look at the technical chart.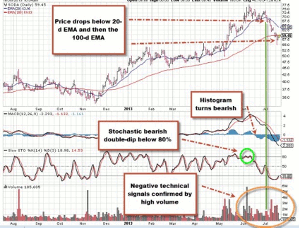 SODA as of 7-18-13
Click to Enlarge
Note the following technical events:
The vertical green line shows the price breaking through the support of the 20-day EMA in very early July, a bearish flag.

The price breaks through support of both the 20-day EMA and then the 100-day EMA as shown by the top two broken red arrows.

The MACD histogram turned bearish in mid-June (broken red arrow in middle of chart) predicting a possible price trend reversal.

The stochastic oscillator showed a double-dip below 80% (green circle) also in mid-June, also a bearish technical signal and before the actual price decline.

All these bearish signals took place on high volume, confirming these red flags.
How do we manage a covered call position when there is a complete technical breakdown?
The first step to take is to follow the 20/10% guideline as set up in the BCI methodology. Curling up into the fetal position and feeling sorry for ourselves is not one of our choices! Following this guideline is easy and automatic. Next we research the cause of the collapse. An excellent site I use for researching stock news is: www.finviz.com.
Most of the time, when there is a total technical breakdown, we are going to close our entire position—buy back the short option and sell the long stock. Then immediately put this cash to work in a completely new covered call position. I call this "converting dead money to cash profits."
What if the collapse was due to a market over-reaction?
We must still take action to protect our hard-earned money. They say, "You can't fight city hall." Once again, we buy back the option, and at least, roll down to generate some additional downside protection of our investment. If the price continues to decline, sell the stock or roll down again but don't freeze and take no action. A complete technical breakdown in conjunction with negative news is too serious a circumstance for us to freeze and take no action. We all work very hard for our money and should protect it in every way possible.
Conclusion
A complete technical breakdown, especially in conjunction with negative corporate news, is a serious matter that requires us to be proactive in our position management. At the very least, rolling down with share depreciation is required. Most of the time unwinding the entire position and using the cash to establish a new position is most appropriate.
By Alan Ellman of TheBlueCollarInvestor.com