Facebook's Status Gets Updated
08/01/2013 8:00 am EST
Focus: OPTIONS
For those who were burned by Facebook's botched IPO and are waiting for the stock's resurrection, Mark Sebastian of OptionPit.com writes that the time might be here.
A sleeping giant has been awoken by mobile advertising. Facebook (FB) now appears like it is going to let all of those IPO buyers out of the stock and maybe more. I think selling at 38 though would be a huge mistake, because the stock appears to want to keep moving and IV appears to be heading higher in the near term. For starters IV is rallying with the stock.

LivevolX® www.livevol.com
Click to Enlarge
While this can be a sign of a tired rally, that is more when IV is high and IV has going up for a while. FB IV has just started popping and is below 35% in some of the longer dated contracts like Oct. Notice that volumes are also starting to increase with the name in both stock and option volumes. IV is rallying because the stock is moving and is now getting interested parties. Another hint that the stock is going to be moving is the ridiculous skew structure.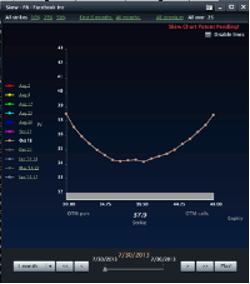 LivevolX® www.livevol.com
Click to Enlarge
This is another structure that points toward the end of a move...or a beginning. In this case, the later. The skew is in breakout formation because it is making up for what appears to be ATM IV that is too inexpensive. The skew structure points toward trader's belief that the stock is going to move and that IV is going to go higher.
In both cases, if the vol trend carries IV up to 45 and skew structure stay this way as the stock crosses 45 or 50 dollars, then I will believe that a rally is done and the vols are pointing toward stock euphoria. Basically, think AAPL end of 2011, not middle of 2012.
The Trade
I like owning FB vol and deltas. Deltas are cheap in the LEAPs and in longer-dated options. Straddles are cheap in Sep and Oct. Once vol moves higher, this will be a great front spread trade.
By Mark Sebastian, Blogger and Contributor, OptionPit.com