A VIX Crush Trade Idea
09/13/2013 8:00 am EST
Focus: OPTIONS
With the FOMC meeting slated for mid-next week, Mark Sebastian of OptionPit.com offers a trade idea heading into a typically volatile pre-meeting days.
Now that it appears that Syria is no longer a concern and that China, Europe, and US data are at least not BAD; traders felt pretty comfortable normalizing the VIX curve and crushing the VIX index.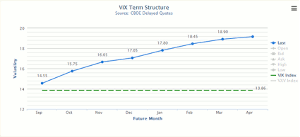 www.vixcentral.com
Click to Enlarge
The above is about as close to normal as the VIX curve can look, relative to the last 12-18 months. There is a tight spread between VIX and the VX1 future with a wider gap between cash and VX2.
However, I think selling at this level would probably be a touch foolhardy. These FOMC meetings might leave the market's mind for a day or two, but typically, the market worries about them leading into the announcement. Recall what happened last month:


LivevolX www.livevol.com
Click to Enlarge
Notice that the VIX was trading below 15 and opened up above 16.50. The market was VERY worried about those minutes; grant it, somewhat needlessly, but worried nonetheless. I think any print below 14, such as today is probably worth buying in the September contract as that will expire the morning of the taper announcement. Thus it will still be a mystery whether the Fed will or will not taper and by how much. I think there is a strong chance this was the low tick of the VIX for the next four days. I like buying straddles, VIX call spread, and just about every non-ETN long vol play here.
Once the FOMC meeting happens though, all bets are off; we could see VIX go to 12 in a hurry. I would NOT want to be long an October contract on Wednesday afternoon next week. I think those are likely to get CRUSHED regardless of the result.
Disclaimer: Mark is short VIX and VIX equivalents.
By Mark Sebastian, Blogger and Contributor, OptionPit.com