A Post-Earnings Facebook Trade
11/01/2013 8:00 am EST
Focus: OPTIONS
A strong earnings report from this social media stock has Andrew Giovinazzi of OptionPit.com suggesting an options play on its continued strong momentum.
While some eyes were on the FOMC meeting Wednesday, the VIX only managed a .40 gain on the day. The market took the FOMC minutes as tapering could happen sooner rather than later. With that out of the way, the rest of November is looking quiet again. Not so for Facebook (FB) after hours.
Mark had mentioned this week about the double bottom curve in Apple (AAPL). That pretty much killed the ATM as there was almost no bid for it after AAPL earnings came out. FB looked a bit different going into the report Thursday. The skew on the upside was very flat, relatively speaking. This is more in line with consistent demand across the curve.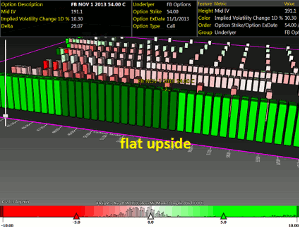 3d charts from OptionVision
Click to Enlarge
If you notice how flat things are, that is not a bad tell for earnings. The one thing about the earnings skew is it does give an inkling into what the totality of the market players think in terms of sentiment. The market was looking upside.
We had a small position in our strategy letter to fit this curve.
The Trade
We looked at ratio call spreads and upside butterflies into FB prior to earnings. I would look at longer-term call spreads now that the FB earnings train has some real momentum.
I have a position in FB.
By Andrew Giovinazzi, Chief Options Strategist, OptionPit.com