Join Alan Ellman LIVE at TradersEXPO Chicago!
Join Alan Ellman LIVE at TradersEXPO Chicago!
Covered Calls with a Twist
11/27/2013 8:00 am EST
Focus: OPTIONS
Traditional covered call writing can be altered through the use of additional strategies like put buying and other option products like weekly options and leveraged ETFs to generate additional income, says Alan Ellman of TheBlueCollarInvestor.com.
Traditional covered call writing consists of buying a stock or exchange-traded fund (ETF) and selling a call option to generate cash flow. Frequently, BCI members will think outside the box and add additional strategies and products to create a covered call writing-like strategy. The goal in these cases is not to complicate a relatively straightforward strategy but rather to generate even higher returns. Here is a strategy recently proposed to me that I thought you would find interesting:
The strategy involves the use of covered call writing, leveraged ETFs, weekly options, and protective puts. Let's first define the latter three terms.
Definitions
Leveraged ETFs: Exchange-traded funds that use financial derivatives (like options) and debt to magnify the returns of an underlying index.
Protective puts: A put option purchased for a stock already owned by the put buyer. It protects against a decrease in share price and ensures a minimum sale price of the stock.
Weekly options: Options which exist for eight days. They are introduced each Thursday and expire eight days later on Friday.
TNA: This leveraged ETF seeks a return that is 300% the return of its benchmark index (small-cap bull fund) for a single day. The fund should not be expected to provide three times the return of the benchmark's cumulative return for periods greater than a day. By nature, these securities are highly volatile and generate higher option premiums.
The Proposed Trade
Buy 300 x TNA @ $52.70

Buy the six-month $77.50 put option for $27.51 (3 contracts)

Total position cost = $80.21 x 300 = $24,063.00

Guaranteed sales price because of put option is $77.50/share, leaving a debit before covered-call writing of $2.71/share

Theory Behind the Trade
Sell weekly, slightly out-of-the-money call options on TNA making sure to generate at least $1 per share premium

Continue selling these options weekly for 26 weeks generating $7,800 ($300 x 26)

By put expiration the shares are sold for $77.50 or $23,250

Total returns = $7,800 + $23,250 = $31,050

Less cost basis of $24,063 = $6,987 which represents a 29%, six-month return< br >
Let's look at a recent options chain for TNA to see the strike we would have to sell to generate a weekly return of $1: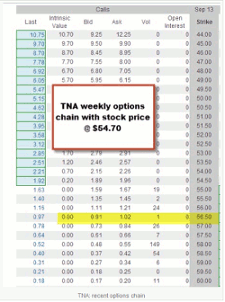 Click to Enlarge
To avoid assignment, the stock cannot go higher than $56.50 to meet our weekly $1 (close to $1 in this case) requirement. Next, let's view a recent one-month chart of this security to see how realistic avoiding assignment for 26 consecutive weeks is: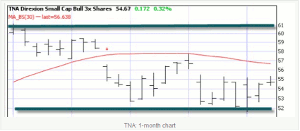 Click to Enlarge
TNA has traded in a $9 price range ($52 to $61) in the past month and so the expectation of assignment during that 26-week time frame is highly probable. To avoid assignment, we can buy back the option but that is a debit not accounted for in the original trade proposal. If we allow assignment we would have to repurchase the security at a higher price also incurring an additional, unaccounted for debit.
Assumptions Made and Related Concerns
For 26 consecutive weeks, you will never be assigned on the short call. Herein lies the weakness of the strategy. We are dealing with a highly volatile, leveraged security which will generate high option returns but also put us at assignment risk. We are protected to the downside because of the put purchase but vulnerable to the upside.
Conclusion
Traditional covered call writing can be altered through the use of additional strategies like put buying and other option products like weekly options and leveraged ETFs. These strategies will have their advantages and disadvantages which must be fully understood before implementing them into your portfolios and risking your hard-earned money. Once all aspects of the multi-level strategy is understood, only you can determine if it's right for you. The one rule of thumb you can always take to the bank is that there is no free lunch.
By Alan Ellman of TheBlueCollarInvestor.com