A Play on Future M&A Deals
05/21/2014 8:00 am EST
Focus: OPTIONS
With all the hype generated by the news of AT&T's bid for DirectTV, Andrew Giovinazzi of OptionPit.com offers a trade idea based on other potential M&A deals that might be brewing.
For now the very acquisitive DISH Network Corp. (DISH) might be on the sidelines as the giant cable and communication industry goes through a massive consolidation. AT&T (T) is looking to buy Direct TV (DTV) and DISH is quietly sitting on the sidelines. DISH tried to buy a cellphone company as an outlet for its wireless spectrum, and they just could not get that done.

charts by www.Livevolpro.com
Click to Enlarge
That did not stop call buyers from coming in to buy calls in DISH. Implied volatility jumped all across the term structure with the May 23 Weekly IV jumping 15 points to 60%. DTV might have gotten the buyout but call paper thought DISH might be next and this week!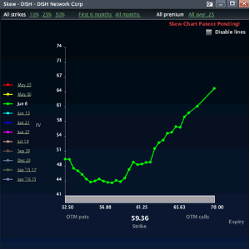 charts by www.Livevolpro.com
Click to Enlarge
Even further out on the term structure upside calls picked up a nice bid as the speculation grew. The question is do we follow the speculators or try something a little different? Only a couple of names if that, as Verizon (VZ) comes to mind, can afford to spend the $27+ billion for DISH. The fact that they might be in a rush to scoop up DISH seems a little farfetched. The IV is probably a little expensive
The Trade
With the pickup in IV in DISH, long vertical call spreads might work to be financed by short vertical put spreads. Go a couple weeks out and sell a few extra put spreads to create a net credit and keep the distance between the put and call spread wide. I think the short-term May IV is a sale but the penalty would be steep. Make sure short put spreads are below the recent run up price.
By Andrew Giovinazzi, Chief Options Strategist, OptionPit.com