Are Option Traders Too Complacent?
06/05/2014 8:00 am EST
Focus: OPTIONS
Along with the major indices continuing to notch one all-time high after another, Moby Waller of BigTrends.com points out that the "Fear Index" has just notched an all-time low since January 2007.
Option implied volatility continues to stay low with the S&P 500 (SPX) (SPY) hitting new all-time highs recently (and downside volatility in the Nasdaq lessening greatly)—other factors involved in the dropping CBOE Volatility Index (VIX) (VXX) include seasonality (many traders are on vacation this time of year and trading volume tends to slow up), the recent narrow overall range in the broad market and the rather slow creep to new highs.
But the bottom line is that the VIX just posted the lowest monthly close since January 2007 (option volatility increased steadily throughout 2007 after that, while the market didn't top out until very late in 2007—the VIX, of course, spiked to over 80 in 2008 during the height of the financial crisis). However, as you can see on the long-term chart below, the VIX can and has gone down to levels in the 10 area bottom, and can stay there for some time—2003 to 2007 was one of those declining VIX periods with many lows in the 10 area.
VIX Monthly Chart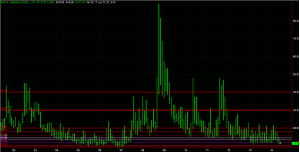 Click to Enlarge
It does show a bit complacency among option traders that the VIX is so low—not many are rushing out to buy option premium (such as put protection premium)—but it is not necessarily a contrarian sort of guarantee that stocks are destined to fall soon.
Another way to look at this reading (a 'rule of thumb') is that the VIX at 11 is saying that SPX options are pricing that the S&P 500 could go up or down 11% looking out to 52 weeks from today…which seems low from a common sense perspective, given that we had 20% plus net moves in both 2012 and 2013 and we've seen volatility in both directions in 2014.
It's definitely an important factor to watch in the markets going forward and could be a concern…but with some major indices at all-time highs, "let the tape/chart tell the tale" is an overriding rule in my analysis.
Moby Waller, Co-Portfolio Manager, ETF Tradr Program & Rapid Options Income, BigTrends.com